Kandahar International Airport 2009

The twelve female soldiers in Kandahar International Airport portray themselves as themselves on the grounds of this Afghan modernist architectural icon from the 1960s. They smile and laugh as they run across the tarmac bearing the assigned weapons they must carry at medium threat level. Unlike Dead Troops Talk (A Vision after an Ambush of a Red Army Patrol, near Moqor, Afghanistan, Winter 1986), 1992, by Jeff Wall (b.1946) or Miss Chief's Wet Dream, 2018, by Kent Monkman (b.1965), more limited acting and staging were involved in this photograph.
The contradiction between the site's war role and the protagonists' cheerful appearances challenges viewers. Should soldiers bearing arms in a danger zone be so happy and carefree? With this photograph, Althea Thauberger (b.1970) decisively pierces the tradition of historic war art and its embedded vision of war as a serious, depressing, and frequently tragic and bitter business. Because the artist works collaboratively with her subjects, we know she has not imposed her own views of what a conflict zone should feel like any more than she has told us how to look at her photograph. She leaves it all up to us.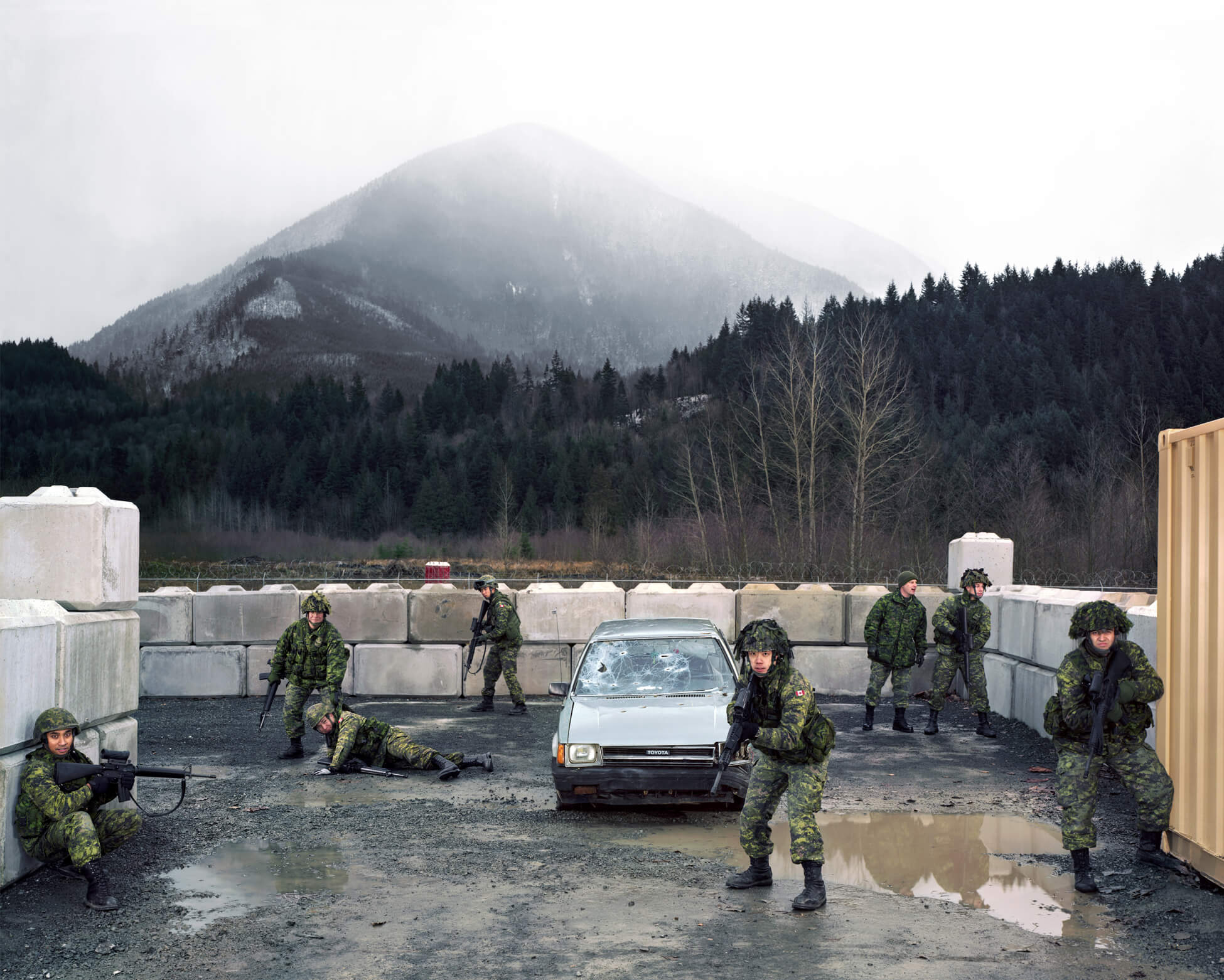 But does she? Describing her impressions following her arrival in Kandahar on a Canadian Forces Artists Program assignment, she noted, "I did not see much, but it was very surreal, very apocalyptical feeling. Dust, vehicles, tents, makeshift roads, overwhelming smell of sewage… I knew before I left that I was interested primarily in women in uniform who were deployed in Afghanistan. It is the first time Canadian women were deployed in such numbers, and especially since this is Canada's first active combat operation since the Korean War."
Kandahar International Airport was not Thauberger's first military artwork. In 2005, she was invited to make a public artwork for inSite, a biennial of collaborative and site-specific work that took place across the San Diego–Tijuana border region in the United States. What she made was Murphy Canyon Choir, which involved collaborating with spouses of active-duty soldiers at one of the largest military housing complexes in the world. In 2008 she made a photographic mural featuring members of the British Columbia Regiment (Duke of Connaught's Own), a Vancouver reserve regiment. The subjects are represented re-enacting an explosives training exercise near Chilliwack, British Columbia, and in a training station that is meant to approximate an Afghan village. The mural's title, The Art of Seeing Without Being Seen, is borrowed from a catchphrase describing military reconnaissance—the specialty of the regiment depicted.