Molly Lamb Bobak was the first Canadian woman to be named an official war artist.
She received the designation at the end of the Second World War, but her personal campaign to get the job started in 1942. Her determination can be seen in her correspondence with the former director of the National Gallery of Canada Harry Orr McCurry, who made recommendations for official war artist status. Bobak's letters are collected in the Canadian War Museum and at Library and Archives.
She pushed McCurry for a commission, one time even hitchhiking to Ottawa from Toronto to pursue the posting. McCurry would later write to her and urge her not to hitchhike again. He promised to send her bus fare.
It's a symbolic story and one recounted by Michelle Gewurtz in an interview about her recently published e-book on Bobak.
Gewurtz, who is a curator at the Ottawa Art Gallery, was asked to contribute to a growing digital collection of biographies of artists being assembled by The Art Canada Institute (ACI) a non-profit research organization based at Massey College at the University of Toronto.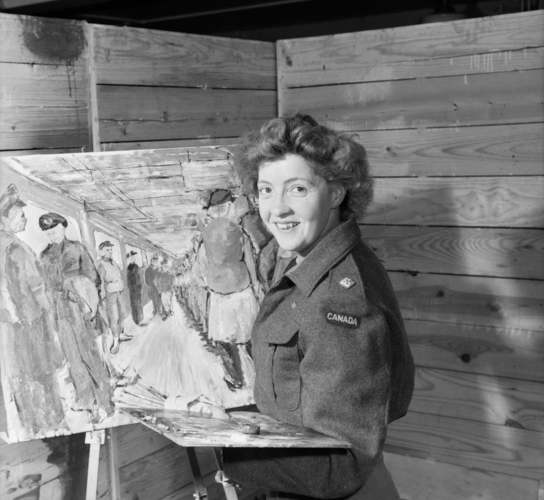 Gewurtz's book (Molly Lamb Bobak: Life & Work) is part of the ACI's Canadian Online Art Book Project that has released more than 25 books on Canadian art history. ACI started in 2013 with a goal of promoting the study of an inclusive, multi-vocal Canadian art history.
Bobak was born in the Vancouver area. Her father was an early champion of Emily Carr and the Group of Seven. He introduced her to visual art at an early age. She attended the Vancouver School of Art where she studied under Jack Shadbolt, Jock Macdonald, and Frederick Varley.
"(ACI) recruited me," Gewurtz said. She met Sara Angel (ACI's founder) at an event and Angel encouraged Gewurtz to write about Molly Lamb Bobak.
Gewurtz was convinced and started work on her e-book on Bobak in the fall of 2016.
The book is not overly long and is divided into four main sections. But, Gewurtz stressed, it's not a traditional book. Because it is digital, "there is no expectation that someone will read from page one to the end and a lot of it is hyper-linked," she said.
People can approach these ACI books from any possible point of entry even a random search may take you to the book.
"It's different to write a book like this. You have to think about how your audience might access your material."
It was also a challenge to avoid repetition.
"I didn't want to go on half a dozen times about how she was the only official credited war artist who was a woman and what does that mean." Other women, such as Paraskeva Clark, Pegi Nicol MacLeod, Alma Duncan and others were war artists, Gewurtz said,  they just didn't get the official accreditation.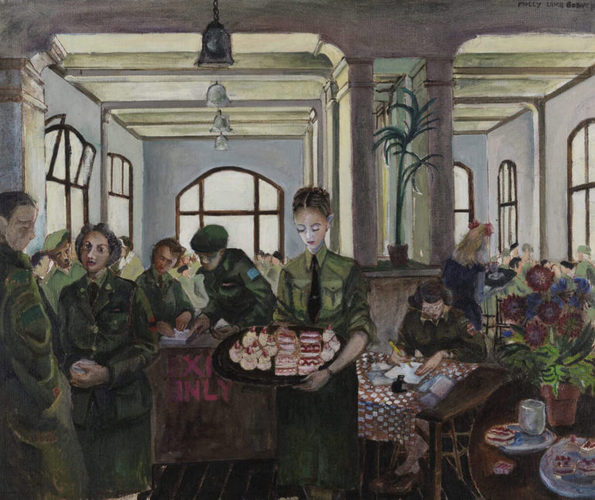 Gewurtz knew something about Bobak before she started her research.
"I did know she was an official war artist. And I knew she sold well at auctions. My parents had tried for several years to acquire a painting and were never successful.
"She had a retrospective that travelled in 1993 and another exhibition in 2018. But in between there was nothing. That's not that uncommon for women artists of her era.
"I didn't see either of those exhibitions but I did have the catalogues to work with and a lot of the work is here at the Canadian War Museum. I was able to see the work in the vaults and talk to the curator." And there are the collected letters and other papers.
Before getting her appointment, Bobak had enlisted in 1942 in the Canadian Women's Army Corps.
When Bobak got her commission, Gewurtz said, "they didn't want to send her overseas. Male artists were at the front and they didn't want her to go there. That was evident in the letters. So she was only given the OK to go, six months after VE Day."
Bobak painted the aftermath of the war in Belgium, France, The Netherlands and Germany. She painted scenes of bombed out towns and military scenes. But while the war art is important, Gewurtz underlines the fact that Bobak was much more than a war artist.
"I wanted to get away from her being just a war artist. What I was most struck by when I started delving into her career was the fact that she was prolific. There was also a real tendency towards abstraction. She was always pushing herself to experiment."
Bobak was active into her 80s, Gewurtz said, "and I wanted to get her out of that pigeonhole."
Female artists in Canada generally haven't had the kind of recognition they have deserved and Gewurtz believes Bobak should be taken more seriously than she has been.
One reason she might not be all that well known is that, in addition to the war paintings, she was known for flowers and still life, domestic interiors and crowd scenes, Gewurtz said.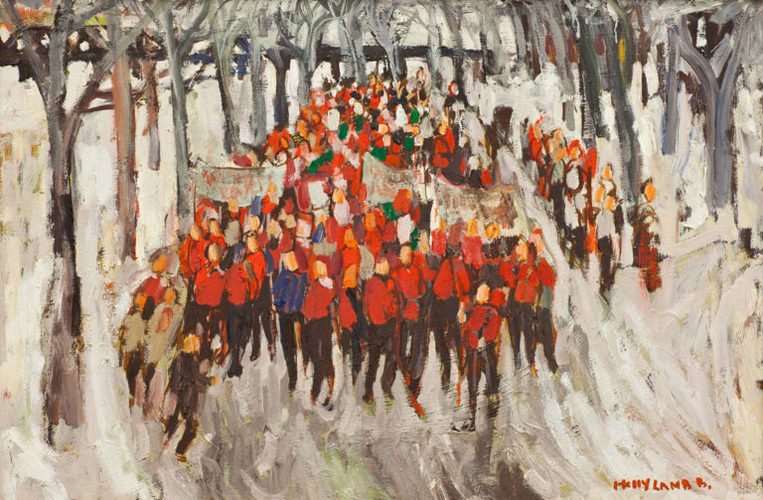 "I think certainly the flowers, while commercially viable, for better or worse, are a gendered work.
Still Bobak is collected widely including by Ottawa's Firestone family.
Gewurtz says a Bobak painting of a parade on Remembrance Day is one of most popular paintings in the Firestone Collection.
"She did paint things people are familiar with. She was very interested in people and how they come together whether in celebration or protest. She did a number of paintings of students protesting in the '60s," for example.
Gewurtz also said that Bobak was really good at bringing people together especially with other artists and colleagues. She was also a good teacher and possessed "a wicked sense of humour."
Gewurtz's area of interest is "in art practices by people who tend to get overlooked or get marginalized for various reasons. These are people who are not necessarily in the mainstream or the spotlight.
Gewurtz is not done with Bobak. She is pulling together an exhibition of her paintings at the Ottawa Art Gallery from June 29 to Jan. 12, 2020. The art will come from a couple of private collections, the war museum, the Canada Council and from the OAG's own collection.
Read the article as originally published here.
Read the online art book here.