Shuvinai Ashoona (b.1961), like her cousin Annie Pootoogook (1969–2016), has repositioned Inuit art, helping make a place for it within the mainstream of contemporary art in Canada and beyond. This change is relatively recent. Not only has Inuit art seldom been seen as part of the contemporary canon in Canadian and international museums, but it has also been separated from other Indigenous art in Canadian museums. Shuvinai has broken with forms of representation adopted by previous generations of Inuit artists, created works in collaboration with artists from the South, and established an international reach with work that challenges stereotypes about life and artmaking in the North.

Shuvinai's two major collaborations with contemporary Canadian artists have had significant impact on the visibility of her work and signal a new acceptance of Inuit art within global contemporary art exhibitions. Her collaboration with John Noestheden (b.1945) in 2008 was initiated by Wayne Baerwaldt, a curator with great international reach. The result was Earth and Sky, a mixed-media drawing that combines Arctic landscapes and astronomical bodies, primarily rendered in black and white line drawings with occasional punctuations of bold, bright colour.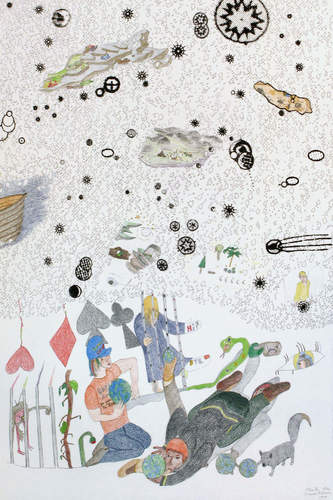 Commercially transferred to a forty-metre banner that spanned the streetscape in downtown Basel, Switzerland, for the Stadthimmel ("Citysky") project, (a public art installation at the Basel Art Fair), the work later travelled to the 2012 Sydney Biennale All Our Relations, before being presented by the National Gallery of Canada in Sakahàn: International Indigenous Art in 2013.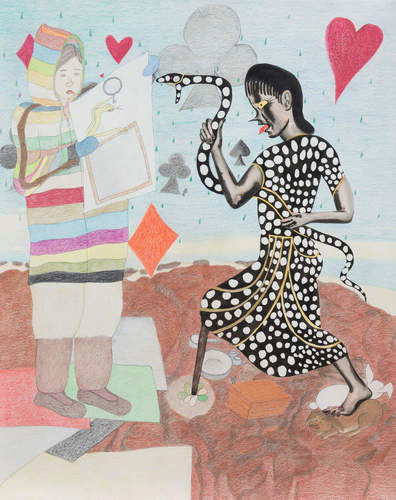 In Canada, Shuvinai's ongoing collaborations and exhibitions with Toronto artist Shary Boyle (b.1972), an artist of international status who was the Canadian representative at the Venice Biennale in 2013, have also increased her profile and presented her work in contemporary contexts previously not considered for Inuit artists. In 2009 the Justina M. Barnicke Gallery at the University of Toronto paired the two artists in a joint show, Noise Ghost: Shuvinai Ashoona and Shary Boyle. The show created a new conversation, challenging old assumptions about Inuit art; for example, that it should be a singular production depicting animals, birds, or fish or figures of hunters and mothers. Noise Ghost won the Ontario Association of Art Galleries Exhibition of the Year Award. Two years later Boyle travelled to the North for a three-week residency at Kinngait Studios, working alongside Shuvinai, and they have continued to work together, creating drawings like Exhibition, 2015, and InaGodadavida, 2015.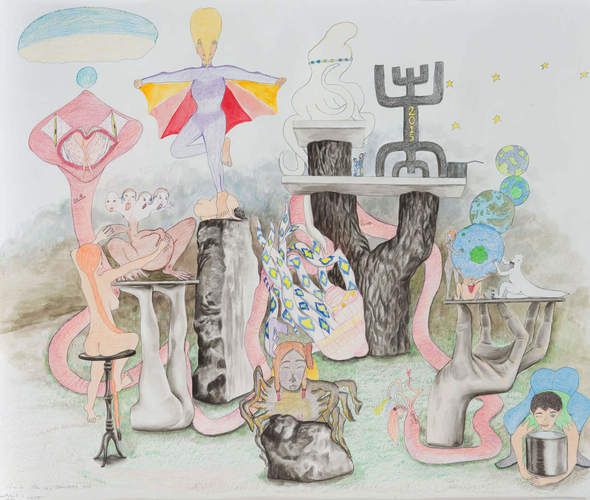 Inuit art has remained slow to hit the radar of international curators. Gradually through the work of artists like Shuvinai, Inuit artists are gaining international profiles outside the traditional Inuit market system. Shuvinai's work was included in the American exhibition of Canadian art Oh, Canada: Contemporary Art from North North America at the Massachusetts Museum of Contemporary Art (MASS MoCA), North Adams, Massachusetts, curated by Denise Markonish in 2013, and in Unsettled Landscapes: SITElines: New Perspectives on Art of the Americas at SITE Santa Fe, curated by Canadian Candice Hopkins between July 2014 and January 2015. Inuit art is constantly changing and adapting, like the culture itself, and Shuvinai Ashoona is pivotal in this change.
This Essay is excerpted from Shuvinai Ashoona: Life & Work by Nancy G. Campbell.