The late Kinngait (Cape Dorset) artist Annie Pootoogook (1969–2016) is celebrated for her drawings of contemporary everyday life in her community. Early in her career, she was supported by fellow artists at the West Baffin Eskimo Co-operative (whose artistic division is now known as Kinngait Studios), but they also warned that her drawings might never sell. Her experimentation with subject matter expanded upon the work of her mother, Napachie Pootoogook (1938–2002), whose art was similarly wide ranging and included several works that confronted difficult social issues. For the younger Pootoogook, it was a gamble to depict contemporary subject matter based on her own experiences and to make works that might not sell and provide the income she needed. Inuit art historian Heather Igloliorte writes of the predicament facing Inuit artists: "While all around them their culture was being debased, devalued, and actively oppressed by the dual forces of colonialism and Christianity, these same values were revered, celebrated, and voraciously collected in their arts." Pootoogook leapt past this predicament when she created a body of work that curators recognized as unusually contemporary, and collectors and museums bought her drawings eagerly.
Pootoogook holds a unique place in the history of Inuit art and within Canadian art history. Her work represents a fresh perspective on and distinct vision within her community. By the time she came of age, the community of Kinngait and the lives of its people were rapidly being transformed through the availability of Southern consumer goods and the penetration of mass communications. Pootoogook observed the circumstances of her modern life and surroundings objectively, without nostalgia and with no false romanticism. "I didn't see any igloos in my life," she said in a 2006 documentary. "Only Ski-Doo, Honda, the house, things inside the house." She documented these things in her drawings just as honestly as her predecessors had documented their own lived experiences in earlier and far different times. Composition (Family Cooking in Kitchen), 2002, exemplifies her interest in "things inside the house."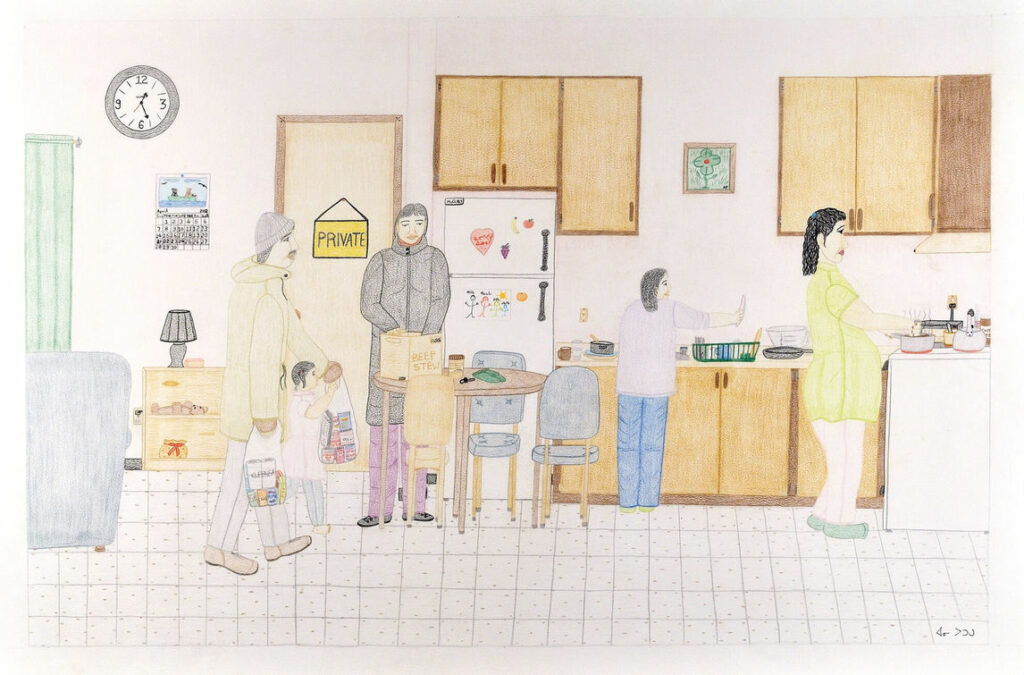 Many Kinngait artists had already pushed at the boundaries of expectations regarding what should or could be consumed by the Southern art market, which was still accustomed to picturesque "ethnic" pieces supposedly emerging from a world of shamans and myths. Pootoogook's mother, Napachie, is one such artist. Her later works, such as Untitled (Alcohol), 1993–94, or Trading Women for Supplies, 1997–98, included dark personal recollections and troubling scenes from her community. Yet at the time Pootoogook's drawings were first shown in the South, Inuit art was still being compartmentalized by historians of Canadian art. The prevailing expectation was that what is Inuit is not contemporary.
It is worth considering the meaning of "contemporary"—a word that is both a simple description and a standard used to exclude certain artists and groups. It has been used for, among other things, art made in the past twenty years, with an awareness of current trends in art history; critical social consciousness in art; and experimentation for its own sake as a value in the arts. Informed by Eurocentric values, this definition often excludes culturally marginalized and remote populations.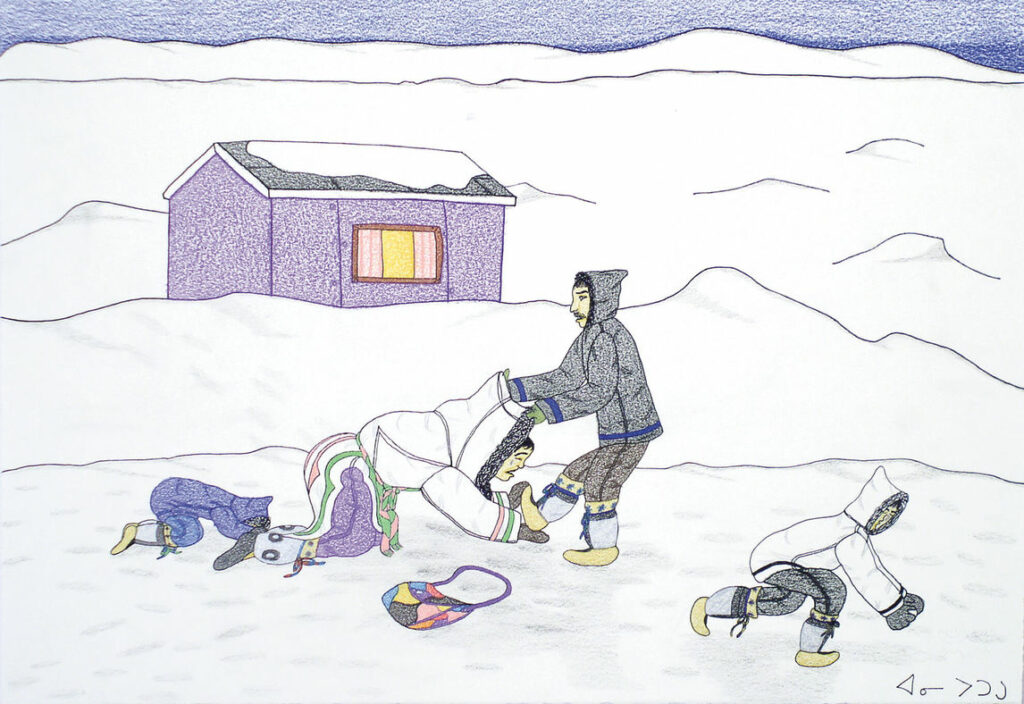 An honest look at daily life in the Arctic in the twenty-first century through the eyes of a self-aware and often irreverent artist like Pootoogook was a shock for audiences in the South. A select group of dealers and curators were willing to accept that what they were seeing in Pootoogook's works was important and maybe even unprecedented. Pootoogook came to the attention of the public quietly in a 2001 group exhibition titled The Unexpected at Feheley Fine Arts, a commercial gallery in Toronto. This culminated in a major solo exhibition in 2006 at The Power Plant Contemporary Art Gallery in Toronto—the first for an Inuit artist. For most artists, the road to reach a broader public takes years to travel. But through the determination and support of these dealers and curators, Pootoogook's drawings quickly became celebrated for capturing the spirit of a time when Canada was looking at Indigenous cultures in new ways, not only in the arts, but also culturally, politically, and ethically.
This Essay is excerpted from Annie Pootoogook: Life & Work by Nancy G. Campbell.