London, Ontario, artist Greg Curnoe (1936–1992) began his career during a decade of change and turmoil in Canada and the world. The sexual revolution, the Vietnam War, the increasing American influence on life in Canada, and Canadian nationalism shaped his thinking and his work. Curnoe was well versed in debates about American imperialism and Canadian national identity, which were waged in the media and in books by George Woodcock, Mel Watkins, George Grant, and Léandre Bergeron. Like other artists such as Joyce Wieland (1930–1998) and John Boyle (b. 1941), Curnoe exhibited his passion for Canada in his paintings, in journal articles, and in letters to the editors of newspapers. He believed that Canadian identity resided in regional cultures across the country, rather than in a single, unified sense of identity.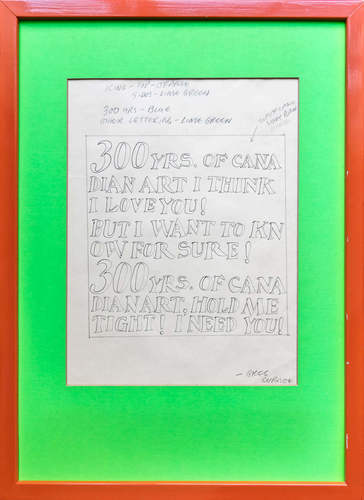 His ambivalent Canadian nationalism is exemplified in his design for Canada's centennial cake, which was served at the opening of 300 Years of Canadian Art at the National Gallery of Canada in Ottawa in 1967. Curnoe's works often gave visual voice, usually with humour, to what was happening politically in Canada, whether in his portraits of political leaders or in works that posed ironic questions.
For a time, much of this cultural nationalism was directed against the United States. In other words, the reverse side of his Canadian patriotism was "anti-Americanism." He admitted to being anti-American, but it is important to understand that he was not against individual Americans or aspects of American culture, such as artists, poets, jazz, or comic books. Indeed, it was Curnoe who commissioned an exhibition by American artist Bruce Nauman (b. 1941) at London's 20/20 Gallery in 1970. Rather, he was concerned with the "cultural imperialism" that he observed with the appointment of Americans in Canadian universities and cultural institutions, and with the corporate takeovers that were happening in London and across the country.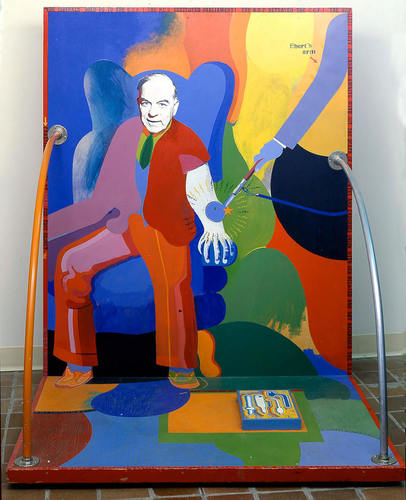 Further, on his first trip to New York City in 1965, Curnoe had been shocked by the violent mugging of a friend. He subsequently re-evaluated his feelings about the United States. Curnoe refused to exhibit his work there and, true to his principles, later turned down a lucrative opportunity to design a cover for Time magazine. Tellingly, he also excluded a reference to the Time review of the National Gallery of Canada's 1968 Heart of London exhibition in all of his files and bibliographic lists.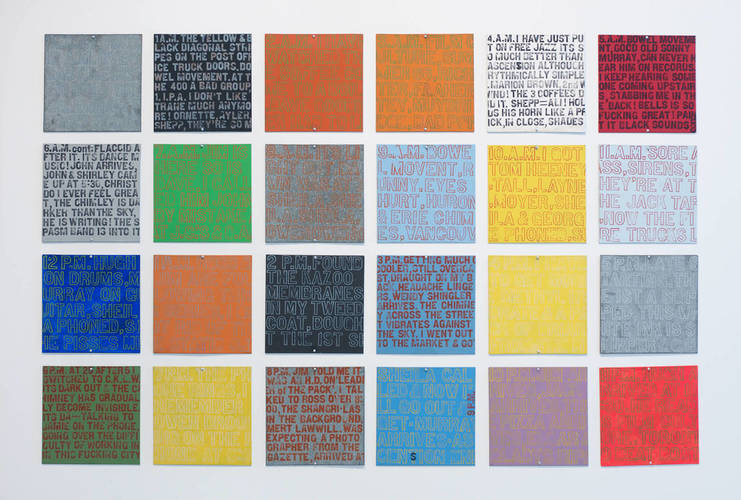 Curnoe's patriotism overlaid with anti-Americanism led to controversy and censorship. The 1968 removal of his mural from the Montreal International Airport in Dorval, Quebec, because of anti-American statements is still one of the best-known examples of censorship in Canadian art history. Several months later, three panels of 24 Hourly Notes, December 14–15, 1966, were removed from an exhibition in Edinburgh because of "indecent" words. When the same work was exhibited at the National Gallery of Canada in Ottawa in 1970, a member of Parliament asked the prime minister, Pierre Elliott Trudeau, to have it removed. The work remained on exhibition. Both these issues resulted in significant national media coverage, including defensive responses from Curnoe.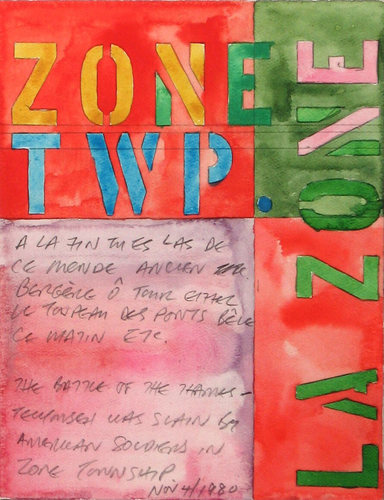 Toward the end of his career, Curnoe began to realize the ultimate irony of the cultural imperialism of his own British ancestors. He had probably become more aware of Indigenous history in Canada from his friend and mentor Selwyn Dewdney (1909–1979), an expert in Indigenous pictographs. While Curnoe made earlier references in his work to Métis leader Louis Riel and the Shawnee hero Tecumseh, who lost his life close to London in 1813 at the Battle of the Thames, it was not until he began researching the pre-colonial history of his property at 38 Weston Street in London that a new understanding of Canadian identity began to emerge. As literary and cultural critic Frank Davey noted, "[Curnoe] felt strongly that as a white individual he had benefitted directly from the injustices First Nations people had suffered and that a major part of that benefit was hidden in the Canadian 'forgetting' of thousands of years of First Nations social development and inhabiting of the land."
This Essay is excerpted from Greg Curnoe: Life & Work by Judith Rodger.