Kinngait (Cape Dorset) artist Oviloo Tunnillie (1949–2014) is one of few women to have gained national recognition as a stone carver in Canada. While it was not uncommon for women to take up carving, particularly in communities less focused on graphic art, it was men whose work gained widespread attention. Indeed, other than Oviloo, only Lucy Tasseor Tutsweetok (1934–2012) has cultivated a significant reputation with international audiences. In many ways, Oviloo's art can be seen through a feminist lens. She was aware that her interest in carving differed from normal social roles within her Inuit culture, but she never wavered in her non-traditional role of a female sculptor. She has explained: "At one time, when I was younger, I was shy, almost embarrassed to carve. If a woman was a carver it was a very unusual thing. People would see it as man's work, but today the woman has to be recognized more. Women are homemakers and mothers, but also women are carvers now. I want women to be strong, to try and use their talents."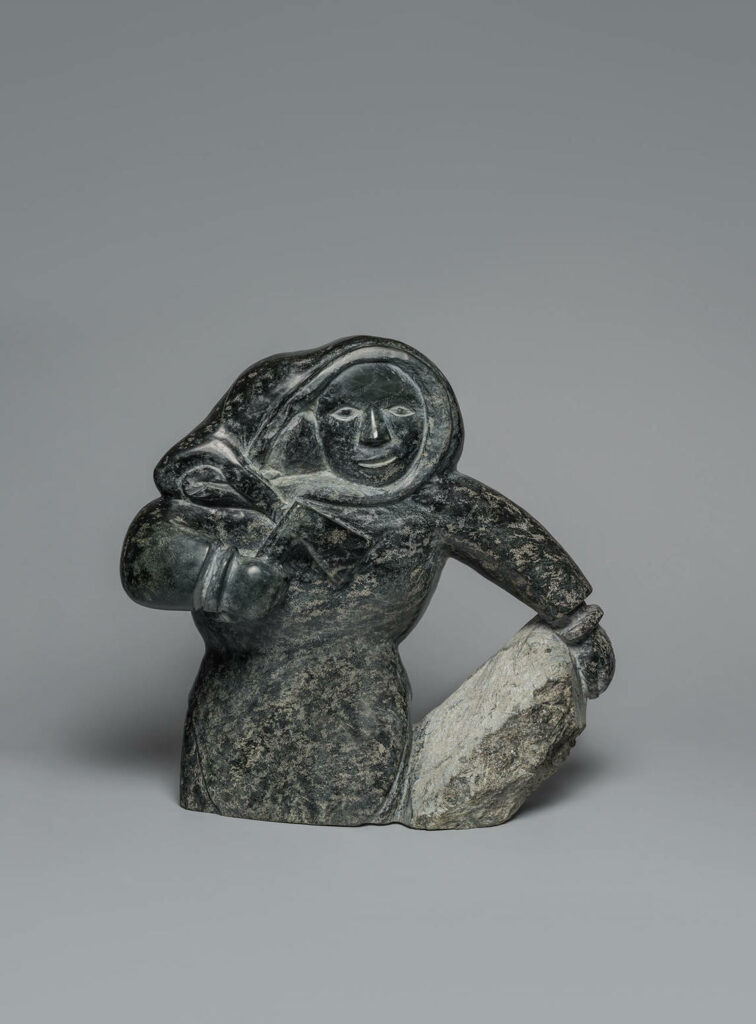 Oviloo's role as a mother was always important to her, and she would represent her maternal relationships in carvings, blending the two aspects of her identity. For example, in 2000, she carved Self-Portrait with Daughter Alasua in 1972, depicting herself with her oldest daughter as an infant in her amautik (parka). She holds an axe in one hand and a piece of carving stone in the other. A photograph of Oviloo "packing" (or carrying) Alasua's daughter, Tye, whom Oviloo adopted, in her amautik, taken by Canadian photographer Jerry Riley in 1990, was used on the cover of an issue of Inuit Art Quarterly in 1992. In 2002, Oviloo created a sculpture showing herself and a twelve-year-old Tye proudly holding the framed photograph by Riley (Oviloo and Granddaughter Tye Holding Photo by Jerry Riley).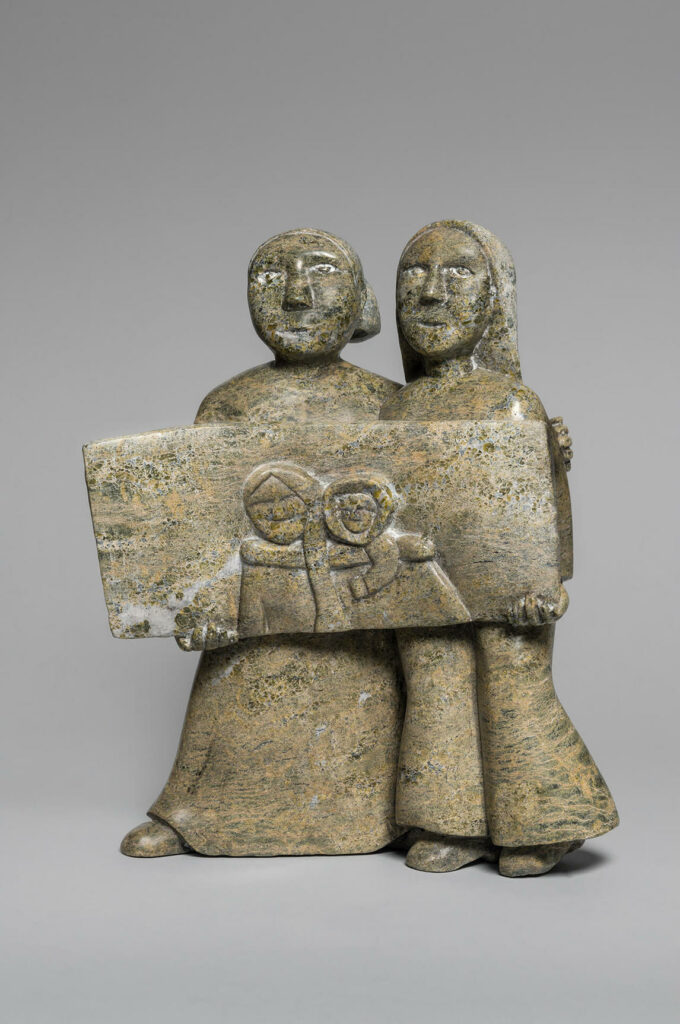 In sculptures Oviloo acknowledged women family members who were also artistic: her mother, Sheokjuke (1928–2012), in the self-portrait Woman Showing a Drawing, 2006; and her husband's grandmother, Ikayukta Tunnillie (1911–1980), in Ikayukta Bringing Drawings to the Co-op, 2002, and Ikayukta Tunnillie Carrying Her Drawings to the Co-op, 1997. Even her sister Nuvalinga appears in My Sister Nuvalinga Playing Accordion, 2005. Despite some similarities with late work by graphic artist Napachie Pootoogook (1938–2002), this degree of specificity about family and relationships has been rare in art by Inuit.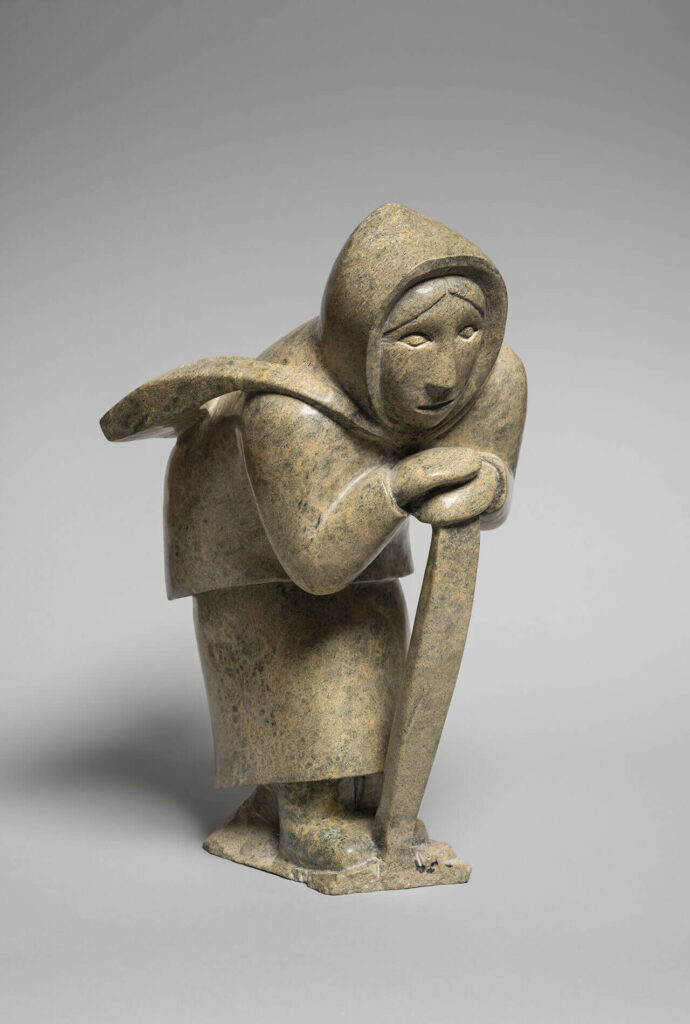 Many of Oviloo's female figures are even more unconventional. They wear culturally unspecific robes, or they are nude. Oviloo is the first Inuit stone carver to repeatedly create the nude female form, in works such as Woman in High Heels, 1987. In 1992, Oviloo stated, "My favourite work is on Taleelayu—women figures." Her depictions of the sea spirit Taleelayu, or Sedna, are strong, voluptuously nude women with whale flukes instead of legs. They were not inspired by a desire to tell the sea spirit's story but are expressive presentations of the female body. In Diving Sedna, 1994, wet hair flows sensuously around full breasts.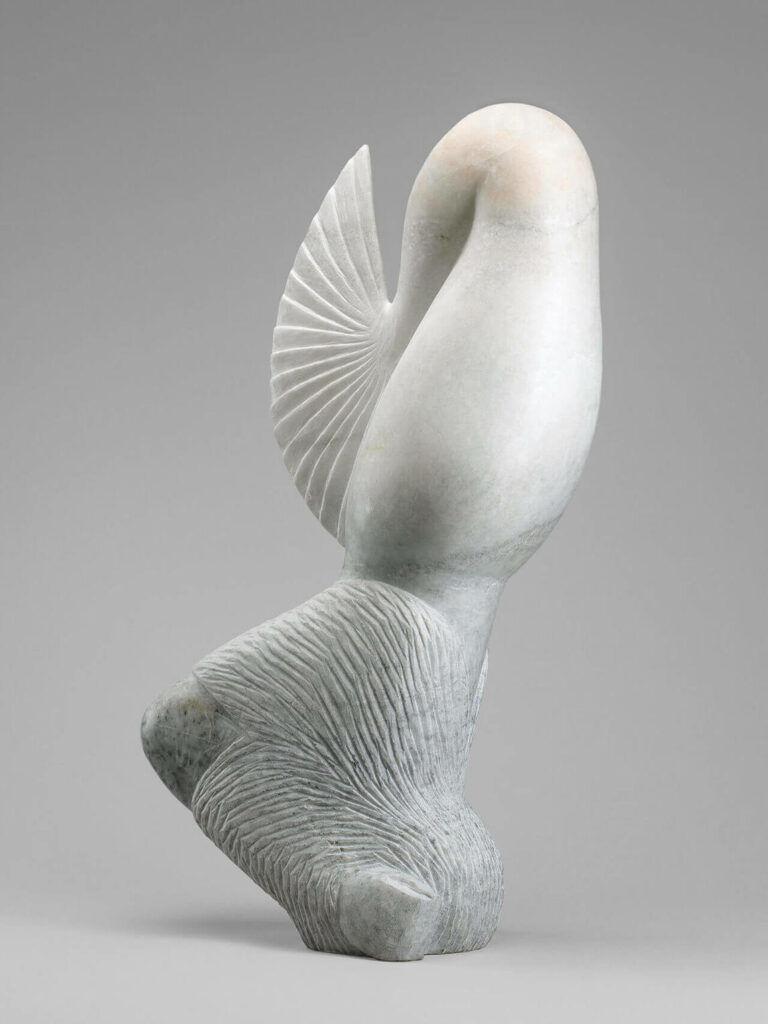 Other sculptures by Oviloo draw on everyday experiences of the body, such as Nature's Call, 2002, which depicts a woman on a toilet with her pants around her ankles. Untitled (Masturbating Woman), 1975, expresses a frankness toward sexuality that is seldom seen in the work of Inuit artists. Thomassie Kudluk (1910–1989), a carver from Kangirsuk, Nunavik, became known for his humorously sexual carvings in the 1970s, but drawings by Inuit women have more frequently been the means to express intimate subject matter.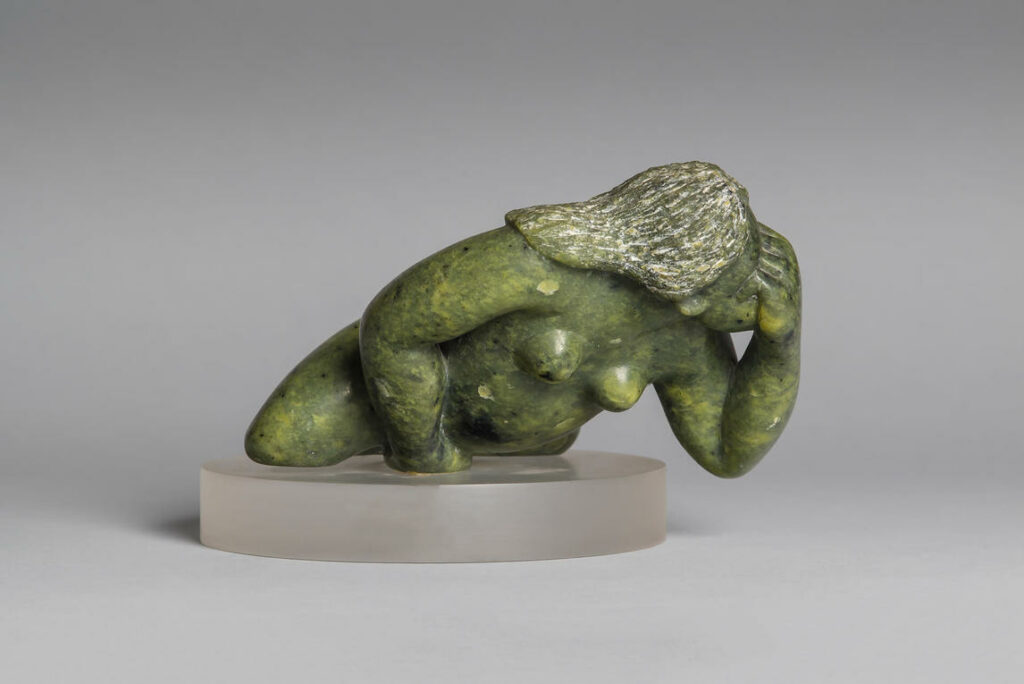 In recent years, Shuvinai Ashoona (b.1961) has become known internationally for her uniquely surreal, sometimes sexual imagery on large sheets of paper. Napachie Pootoogook's work from the 1990s explored themes seldom seen in Inuit art: eroticism, domestic violence, and gender relations. Annie Pootoogook (1969–2016) also used the more personal medium of drawing on paper to express an unvarnished portrait of modern-day life in Cape Dorset. Oviloo and Annie have served as role models for a younger generation of artists, such as Jamasie Pitseolak (b.1968), to address personal themes involving sexual abuse and modern technology.
This Essay is excerpted from Oviloo Tunnillie: Life & Work by Darlene Coward Wight.