Alberta-born artist William Kurelek (1927–1977) often explored his Ukrainian heritage and the cultural diversity of our nation in his widely popular paintings. While Kurelek was initially focused on portraying the Ukrainian-Canadian immigrant experience, the growing multicultural nationalism of the 1960s inspired him to paint several series dedicated to other major ethnic and cultural groups in Canada in the 1970s.
Kurelek developed what he later described as his "ethnic consciousness" during public school in rural Manitoba, around the same time his artistic identity began to emerge. His artistic confidence and ardour for his parents' heritage was further nurtured by cultural classes he attended as an adolescent and reinforced at university through his involvement in the University of Manitoba's Ukrainian students' club and his friendship with Zenon Pohorecky, a fellow student (and future anthropologist of Ukrainian culture) whose art revealed a deep interest in the "interplay between creative pursuit and ethnic identity."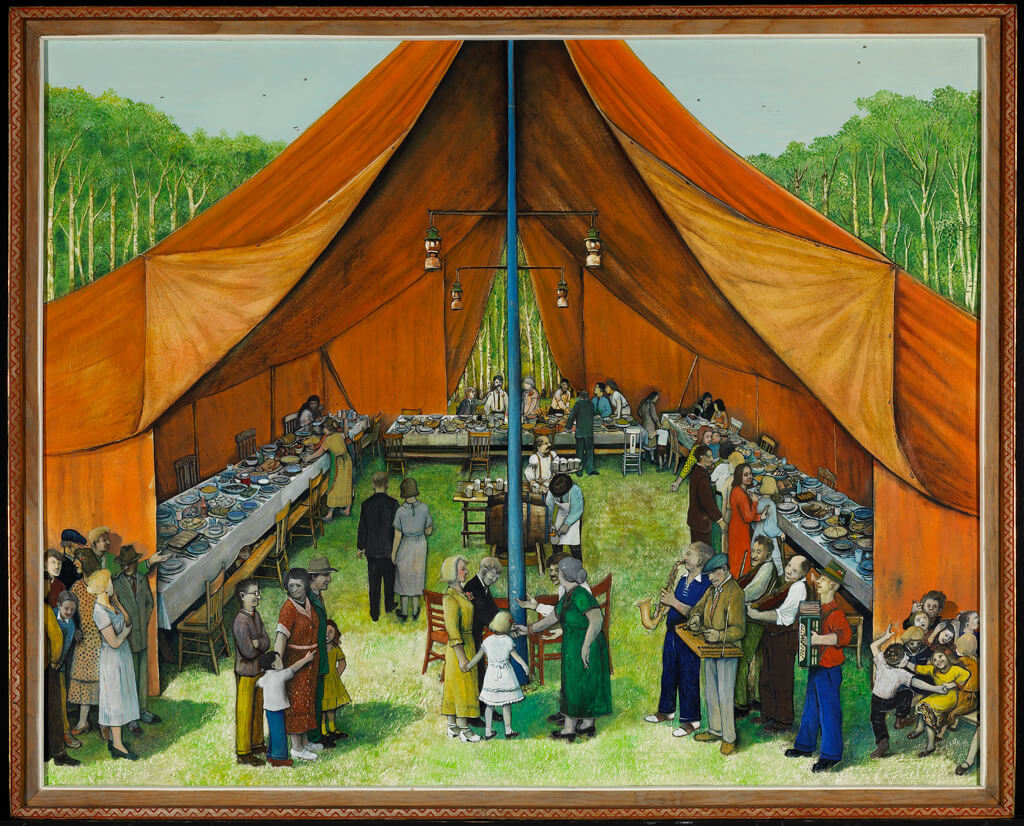 Although matters of social consciousness and the recovery from mental illness became Kurelek's central artistic concerns during the 1950s, themes of ethnicity and cultural identity appear throughout many of his early works, from Zaporozhian Cossacks, 1952, to The Maze, 1953. His representation of Ukrainian culture became more prevalent in the early 1960s, especially with his 1964 series An Immigrant Farms in Canada, featuring such works as Manitoba Party. However, the series was less a celebration of ethnic identity and more an attempt to honour and repair his relationship with his parents, particularly his father.
With the approach of the Canadian Centennial in 1967 and the emergence of a multicultural nationalism, Kurelek began to push the discussion of his Ukrainian heritage into one about the history of Canadian nationhood. Between 1965 and 1967 he completed a series about the roles of Ukrainian women in Canada. The timing and public function of it were significant: not only did it serve to mark the fortieth anniversary of the Ukrainian Women's Association of Canada and the seventy-fifth anniversary of Ukrainian immigration to Canada, but the Ukrainian Pioneer Woman in Canada series, composed of twenty works, including Ukrainian Canadian Farm Picnic, 1966, displayed at the Ukrainian Pavilion at Expo 67 in Montreal, was presented as a Canadian national signifier. In 1983 the federal government acquired and installed the monumental, multi-panelled The Ukrainian Pioneer, 1971, 1976, on Parliament Hill, where it remained until it was transferred to the National Gallery of Canada, Ottawa, in 1990.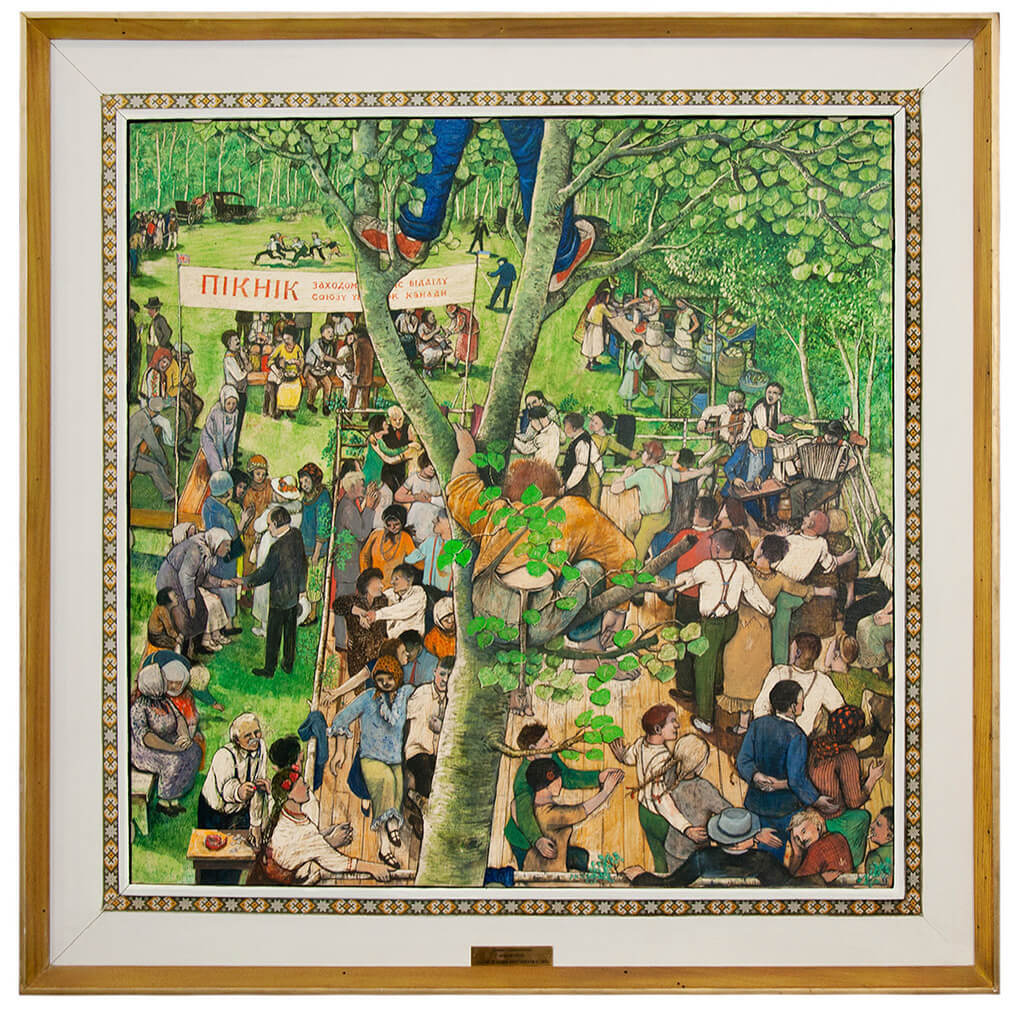 By the early 1970s Kurelek could confidently proclaim that the "days of Anglo-Saxon domination are gone." He expanded his repertoire in the 1970s to include optimistic expressions of the postwar era's multiculturalism. He crisscrossed the country on a quest to capture the cultural diversity of the country's inhabitants and produced series and publications honouring Canadian Jewish, Polish, Irish, Francophone, and Inuit peoples. When he died suddenly in 1977, Kurelek had been planning two series, about German- and Chinese-Canadians, respectively.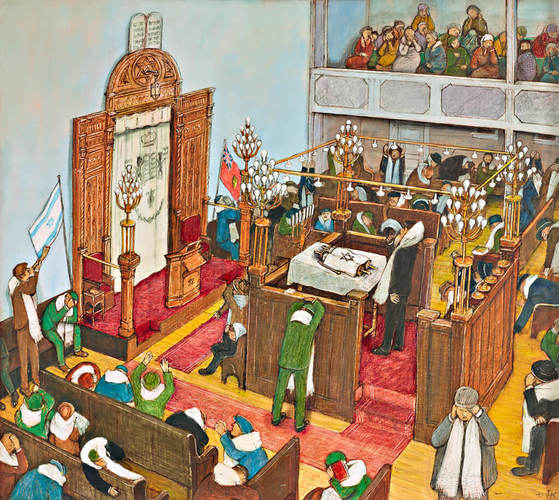 Kurelek's representations of non-European and Indigenous peoples are not unproblematic. The title of his 1976 book, The Last of the Arctic, for instance, betrays a common misconception, namely that Inuit culture was a static set of beliefs and customs that were disappearing because of infiltrating southern institutions and technologies. Such views were not unique to Kurelek. Christopher Ondaatje, owner of the book's publishing house, Pagurian Press, had commissioned Kurelek to present a nostalgic view of Arctic life, "to paint it before it had its streetlights and Skidoos and telephone poles." Such outdated representations have since been superseded by the work of renowned Inuit artists, including Annie Pootoogook, Shuvinai Ashoona, and Oviloo Tunnillie, who explore contemporary life in the Arctic from an insider's perspective.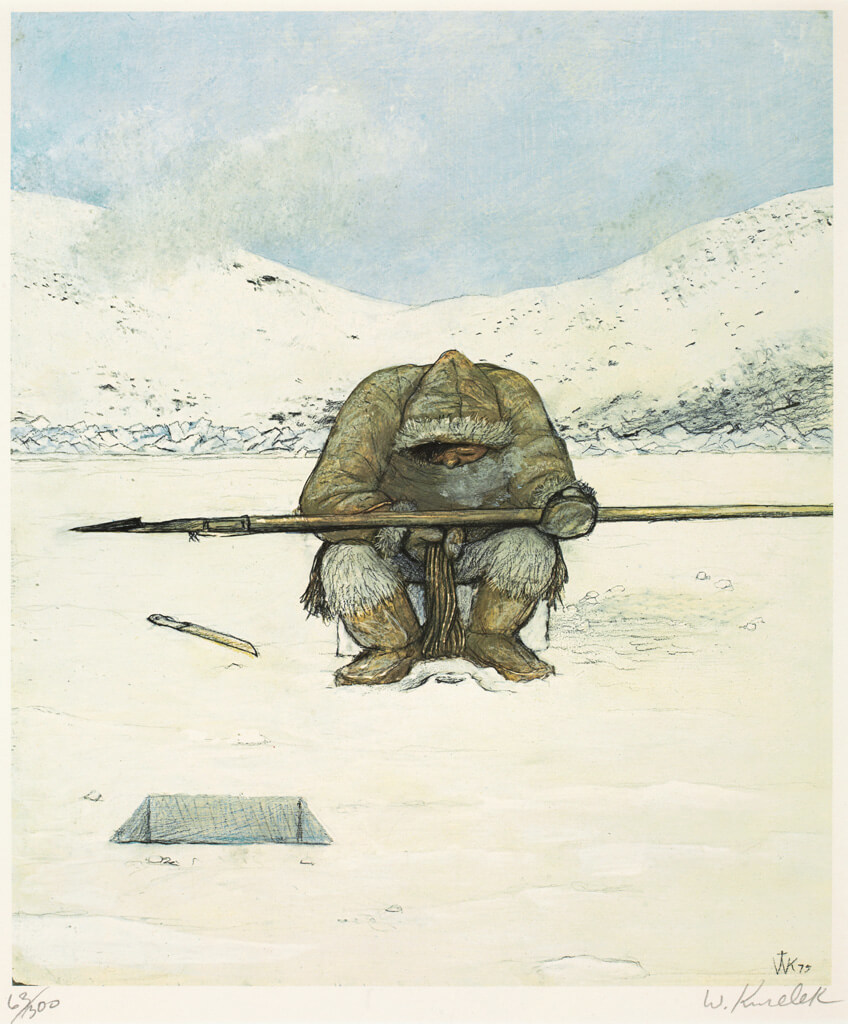 This Essay is excerpted from William Kurelek: Life & Work by Andrew Kear.