Artist Mary Hiester Reid (1854–1921) painted various subjects during her career: garden vistas, moonlit urban or rural environments, and domestic interiors. Yet she was best known and most praised for her artful depictions of flowers. Her floral still-life paintings distinguished her as an artist, earning her both commercial success and critical acclaim at a time when women were expected to explore art primarily as a domestic hobby. As art historian Pamela Gerrish Nunn explains, "The raw materials for flower-painting were eminently available to women in the domestic environment, and women's pastimes and domestic skills were both commonly focused on flora, from making cut-paper flowers or embroidering handkerchiefs with tiny roses to arranging vases or nurturing a pot-plant in the rooms of a house."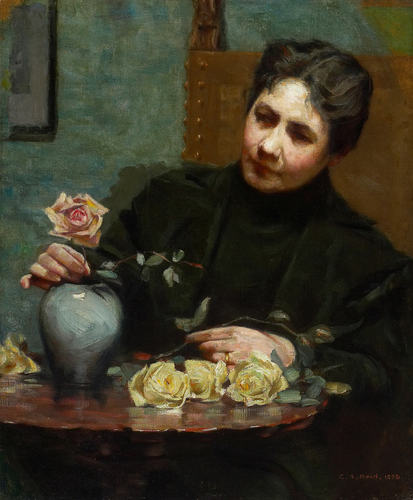 Floral works were extremely popular in the Dutch Republic during the seventeenth century, as the Dutch were the largest growers and exporters of flowers in Europe at the time. The artist Rachel Ruysch (1664–1750) lived and worked in Amsterdam, selling her works to a largely merchant clientele. She eventually became internationally renowned, working from 1708 to 1716 as court painter for Prince Johann Wilhelm in Düsseldorf, Germany. Despite its immense popularity, during the eighteenth century European art academies ranked flower painting as a subset of the still-life painting genre, the lowliest genre in the academic painting hierarchy.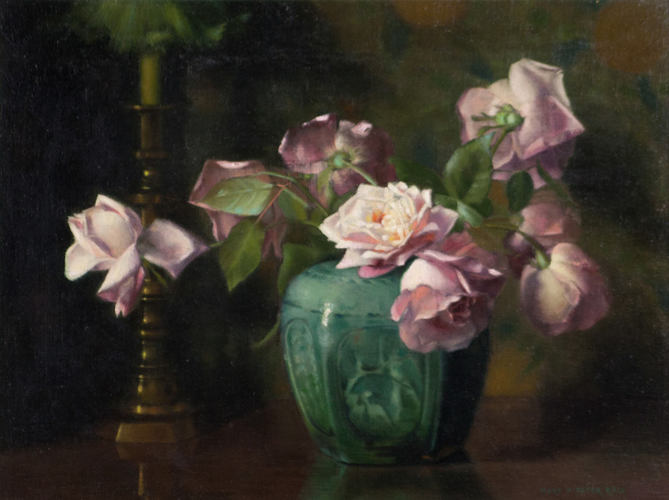 During the nineteenth century, botanical works became teaching tools to illustrate and complement scientific studies documenting a plant's stages of growth. Although men often provided the texts for these works, it was women who produced the illustrations. Hiester Reid's Canadian predecessors, Halifax artist Maria Frances Ann Morris Miller (1813–1875) and Ontario-based Agnes Dunbar Moodie Fitzgibbon Chamberlin (1833–1913), who illustrated two books on Canadian flora written by Catharine Parr Traill (1802–1899), Canadian Wild Flowers (1869), and Studies of Plant Life in Canada (1885), strove for scientific accuracy in their botanical works.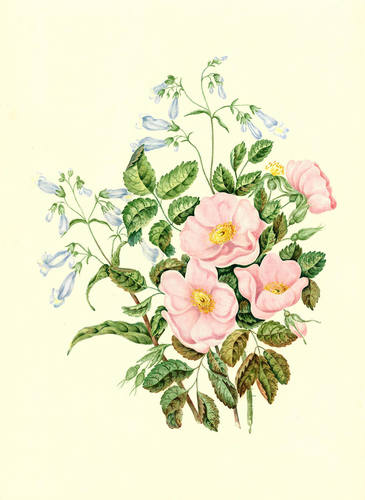 Hiester Reid's specialization speaks not only to her marketing savvy but also to a longer history of women's engagement with flower painting, pursued by individuals from Dutch still-life painters such as Ruysch to, perhaps most recognizably today, Georgia O'Keeffe (1887–1986). Like these artists, Hiester Reid started out in her career producing highly realistic works paying meticulous attention to minute details such as the individual petals of a chrysanthemum. But after extensive travels in Europe, she absorbed the influences of international art movements, such as Impressionism and Tonalism, which in turn had a deep impact on her work. As she progressed in her artistic career, Hiester Reid pushed the boundaries of the floral still life, infusing her work with contemporary stylistic traits such as broader brush strokes and impressive tonal variations to define the blooms, turning her still-life works into artfully arranged and Aesthetically informed settings.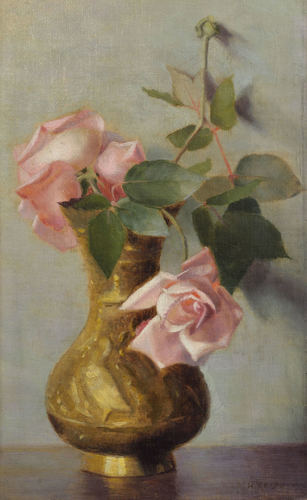 Around the mid- to late nineteenth century, artists heeding the advice and theories of English critic John Ruskin (1819–1900) sought to infuse paintings of flowers with "modern force," producing works that paid attention to "botanical accuracy," while simultaneously incorporating "high art ideals." Hiester Reid adhered to Ruskin's assertion that a painting must be scientifically accurate, aesthetically pleasing, and poetic in nature. Her efforts to meet these exacting dynamics were noted by reviewers during her own time. In 1899 the pseudonymously named Lynn C. Doyle, writing for Toronto's Globe, observed that "Mrs. Reid's flower pieces will never lack for admirers, and for the best of reasons; she gives more than their mere likeness, something of its inner grace, or soul, for as one great Frenchman claimed, 'everything in nature has a hidden, and, so as to say, mortal life.'"
This Essay is excerpted from Mary Heister Ried: Life & Work by Andrea Terry.