During the 1960s, Joyce Wieland (1930–1998) sustained her visual art practice while branching out into experimental film. The exploration of cinematic framing, sequentiality, and narrative momentum was not limited to her actual filmmaking, though. She also set out to transfer these aspects of cinematic style to her visual art practice, making a range of paintings, assemblages, and fabric objects that in some way mimic or evoke films.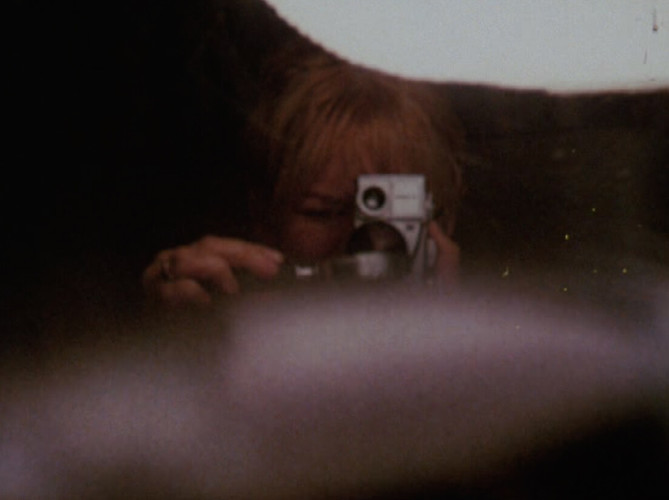 In 1971 the influential American film critic Andrew Sarris announced that "the talented Canadian Joyce Wieland leads the contingent of women film-makers in the experimental, abstract, poetic, avant-garde, underground categories." Wieland achieved this reputation as she showed her films alongside those by other artists grouped around New York's Film-Makers Cooperative, including Jonas Mekas (b.1922), Hollis Frampton (1936–1984), Shirley Clarke (1919–1997), the Kuchar brothers (Mike, b.1942; George, 1942–2011), Jack Smith (1932–1989), Flo Jacobs (b.1941) and Ken Jacobs (b.1933), and her husband, Michael Snow (b.1928). Many of the films produced by these artists are short. They provide neither heroes nor romantic leads for the audience to emotionally identify with, and they frequently dispense with a narrative line.
Wieland has often been associated with the Structural film movement, whose practitioners concentrated on the material properties of film, projection, light, and camera movement, while generally avoiding narrative completely. Wieland was never a perfect fit with the Structural school, though, and the term "underground film" is perhaps as appropriate, in that films from this genre and era are often rooted in subcultural or countercultural social groups. Wieland was inspired by Jack Smith's cheaply made Flaming Creatures, 1963, a fantastical vision of cross-dressing made by Smith and his friends. Engaging with both underground and Structural approaches to filmmaking, Wieland's films unravel the material qualities of the cinematic image, while also introducing storylines related to politics, patriotism, sexuality, embodiment, and other themes of interest to the counterculture.

While Wieland was making films—such as Patriotism II, 1964; Water Sark, 1965; Hand Tinting, 1967; and Sailboat, 1967—she was also creating paintings, plastic assemblages, and quilts using diverse materials that transform and adapt cinematic language and technique. From 1963 onward many of her paintings are divided into frames that are read sequentially, implying both movement and narrative progression, even when the storyline is as rudimentary as the plight of a sinking ship, as in Boat Tragedy, 1964, or a romantic kiss, as in First Integrated Film with a Short on Sailing, 1963. These paintings often include cinematic devices such as frame-by-frame advances to a close-up, as if in a deconstructed zoom, and sudden shifts of perspective.

In 1966–67 Wieland made a series of soft hanging sculptures using plastic. These sculptures resemble vertical strips of film and are explicitly titled "film" or "movie," as in Stuffed Movie, 1966. In the quilts she made in 1966, such as The Camera's Eyes and Film Mandala, the familiar geometric aspect of traditional quilts now accommodates the square form of an old movie camera and the round shape of the lens.

The recurrence of cinematic motifs in Wieland's art practice is a clear acknowledgement of the profound impact that movies had on all aspects of twentieth-century visual culture. By complementing her actual filmmaking with hybrid art forms that borrow aspects of cinematic experience, Wieland contributed to a new way of making art in the 1960s—between and across media.
This Essay is excerpted from Joyce Wieland: Life & Work by Johanne Sloan.