Of all her work, Girl Under a Tree, 1931, was a personal favourite of the Montreal-born artist Prudence Heward (1896-1947); it was the only one of her own paintings she hung in her bedroom. It is also a work that tells us what was and was not acceptable in the Canadian art world of the early 1930s.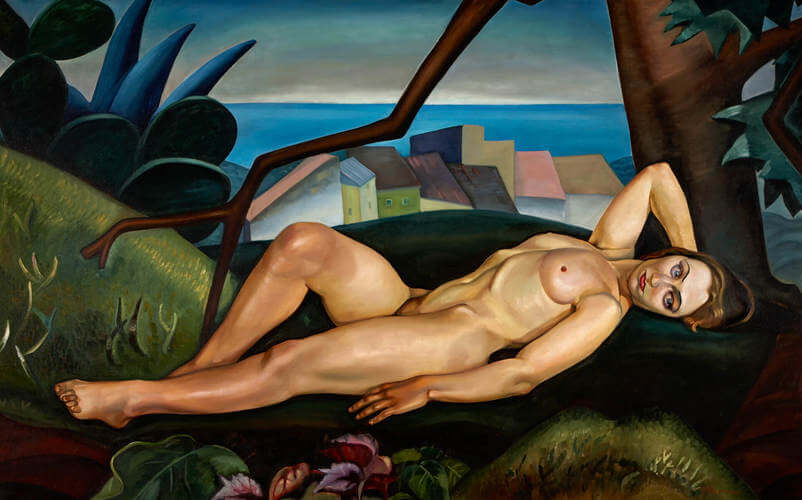 Celebrated for her sculptural forms, defiant figures, and expressionistic colours, Heward is renowned for her provocative representations of female subjects. She was affiliated with the Beaver Hall Group, the Canadian Group of Painters, and the Contemporary Arts Society, but also exhibited with the Group of Seven. Despite Heward's commitment to painting people, an art critic for the Montreal Gazette wrote in 1932 that Heward was known as "an adopted daughter of the Group of Seven" because she had exhibited with the landscape painters on three occasions.  After her death in 1947, the National Gallery of Canada, Ottawa, organized a memorial exhibition of her work, which toured across the country.
Like many of Heward's other paintings, the sitter for Girl Under a Tree is unknown to us. The female subject is integrated into the landscape, a type of depiction that fellow Montreal painter Edwin Holgate (1892–1977) became well known for in works such as The Bathers, 1937.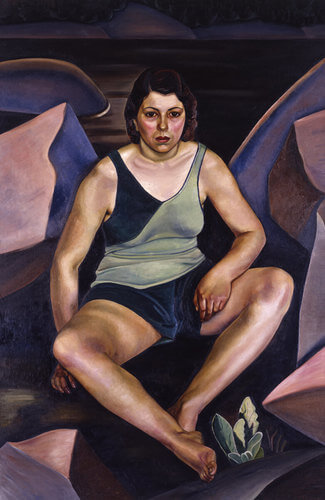 But whereas the female bodies in Holgate's paintings often echo the landscape itself, the woman in Heward's painting seems out of place because she is not lying next to a body of water as though she has been swimming, and the light in the painting indicates that she is not naked for the purposes of sunbathing. Artist-critic John Lyman (1886–1967) noted this dissonance when he wrote in his journal: "Bouguereau [1825–1905] nude against Cézanne background." In other words, the way that Heward painted the woman's body is very different from the style she used to paint the background landscape.
Nevertheless, according to Group of Seven painter A.Y. Jackson (1882–1974), artist Arthur Lismer (1885–1969) thought that Girl Under a Tree was "the best nude ever painted in Canada." The largely positive reception of Heward's painting offers an insight into Canadian morality and the limits of what the country accepted as art in the early 1930s.
When the painting was included in the December 1931 Group of Seven exhibition, it inspired commentary, even some controversy, but not scandal. Four years later, when Lilias Torrance Newton (1896–1980) exhibited Nude in the Studio, 1933, at the Art Gallery of Toronto (now the Art Gallery of Ontario), it was taken down because of concerns that the subject was a "real" naked woman rather than an allegorical or mythic nude, such as depicted in The Birth of Venus, 1482–85, by Sandro Botticelli (1445–1510).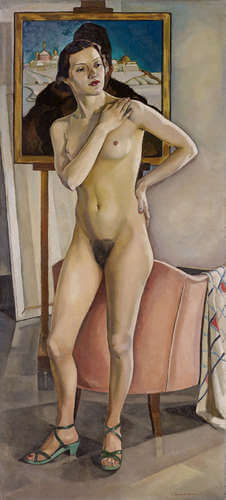 It appears that in the late 1920s and early 1930s in Canada, the female nude in a landscape (as in Heward's painting) was permissable, while a naked woman in a studio (as in Newton's work) was not. This is likely because a nude in a landscape struck contemporary viewers as justified, or at least understandable, whereas a naked model in a studio struck them as gratuitous and unnecessary.
Despite Heward's renown during her lifetime, following the 1948 National Gallery of Canada exhibition of her art, her name was largely left out of art history textbooks for the next two decades. Heward was one of the first Canadian women artists to be rediscovered in the 1970s and 1980s, when feminist art historians began organizing exhibitions and writing about women artists who had been well known and respected during their lifetimes but who had not yet received adequate scholarly attention.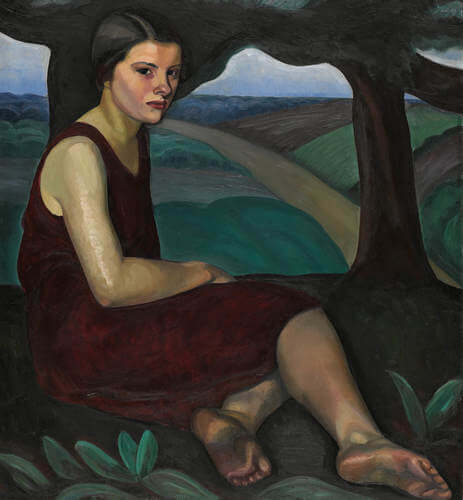 In 1975 art historians Dorothy Farr and Natalie Luckyj curated From Women's Eyes: Women Painters in Canada at the Agnes Etherington Art Centre in Kingston, Ontario, and in 1986 Luckyj spearheaded Expressions of Will: The Art of Prudence Heward, also at the Agnes Etherington Art Centre. Thanks largely to these feminist exhibitions and accompanying catalogues, Heward is now recognized as an important modernist artist of the early twentieth century, and her paintings continue to garner attention from art historians concerned not only with Canadian art but also with issues of class, gender, and race.