One of Haida artist Iljuwas Bill Reid's (1920–1998) most iconic large-scale works, The Raven and the First Men is based on a tiny boxwood sculpture that he created ten years earlier, entitled The Raven Discovering Mankind in a Clamshell, 1970. Commissioned by philanthropist Walter C. Koerner for the new University of British Columbia Museum of Anthropology in Vancouver, The Raven and the First Men foregrounds the Raven (Xhuuya), the well-known Haida Trickster who created the archipelago of Haida Gwaii and its first humans. While multiple versions of this Creation story have been passed down, the one Reid interprets involves Raven releasing humans from a clamshell found on the beach.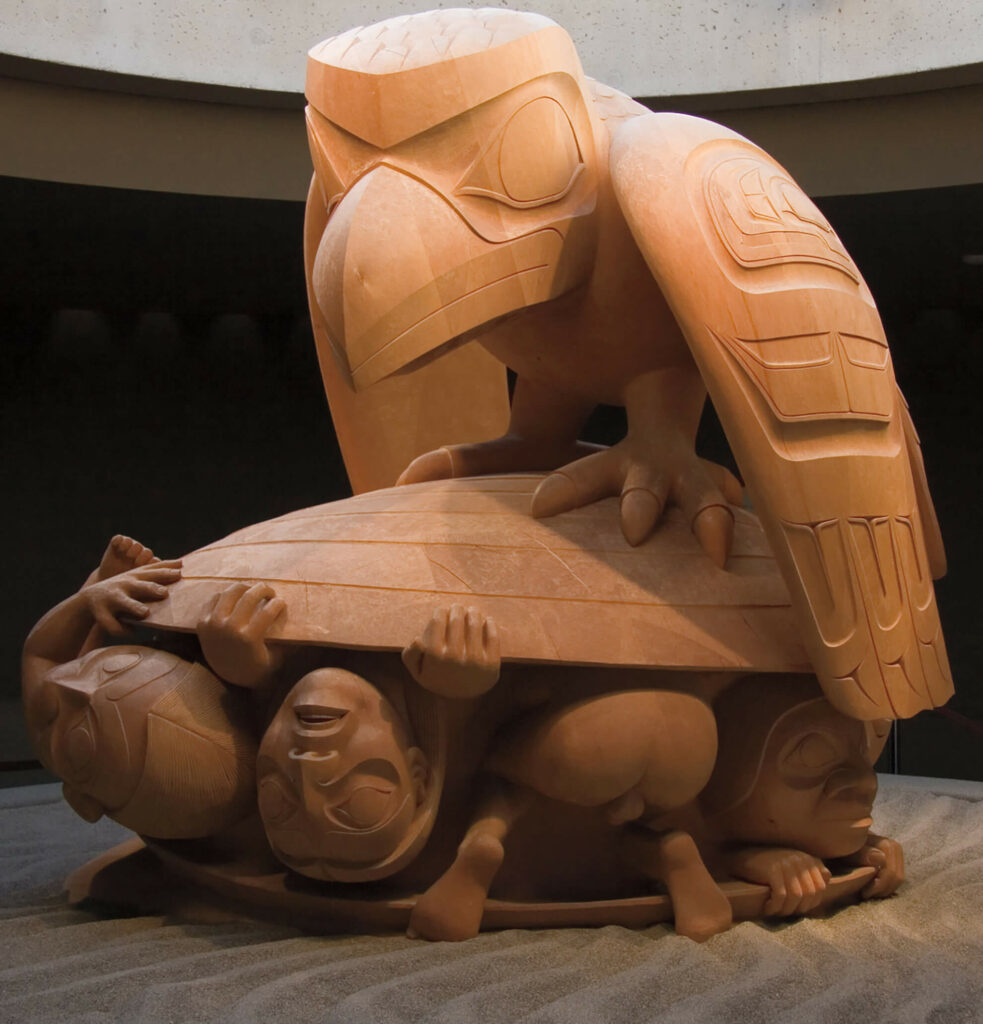 The fabrication of the large-scale sculpture took Reid seven years to complete. Reid had initially requested a 3.05 metre cube of cedar from which to carve the work, but such a cube was almost impossible to obtain, and imperfections on the surfaces of the largest cedar cubes would have made them difficult to use. The solution was to fabricate a block of wood by laminating together 106 yellow cedar beams weighing more than 4,000 kilograms. Because Reid was simultaneously working on his Skidegate Dogfish Pole, 1978, and grappling with Parkinson's disease, he needed to rely a great deal on assistants to carry out his vision.
With this monumental sculpture, Reid makes visible the powerful domain of Haida narrative through the Raven. His enchantingly stubby body and beak do not detract from his imposing posture as he towers protectively over the clamshell and its inhabitants. Here, this Cultural Hero is in charge, and the human endeavours of art, history, and knowledge become part of his jurisdiction.
This Spotlight is excerpted from Iljuwas Bill Reid: Life & Work by Gerald McMaster.