Born in St. Andrews, New Brunswick, the Black Canadian-American artist Edward Mitchell Bannister (1828–1901) was among the foremost painters in Rhode Island in the late nineteenth century. He produced River Scene at the height of his career, after winning a first prize medal for painting at the Centennial Exposition in Philadelphia in 1876. This made him the first artist of African descent to win a major art prize in North America.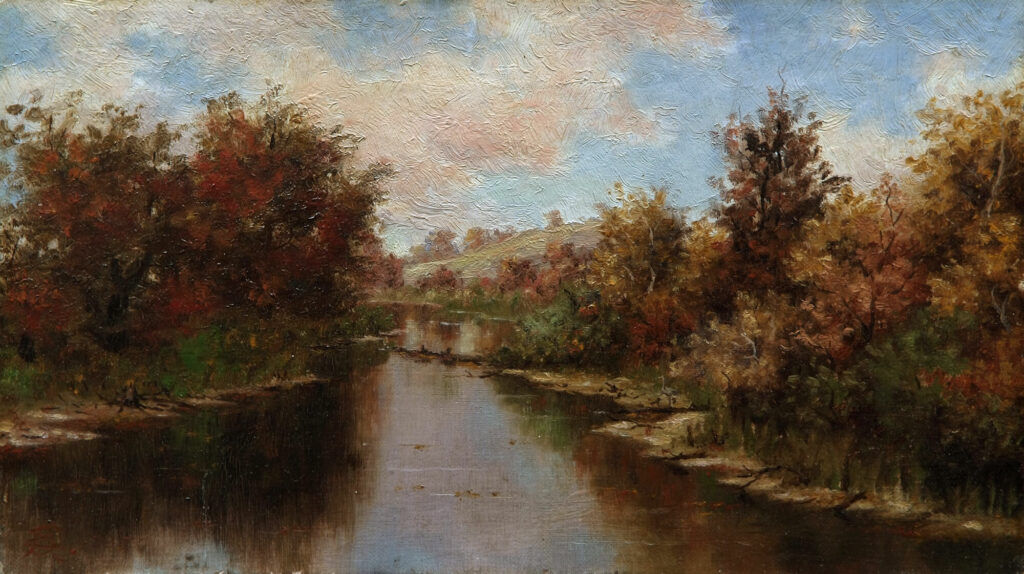 River Scene positions us in the centre of a placid river bordered by autumn trees. Their shimmering red and golden leaves are composed of lively dabs of paint, prefiguring Bannister's Impressionist paintings of the 1890s. In the middle ground, a wooden log lying in the water blocks the path ahead, delineating the boundary between familiar and untraversed wilderness. River Scene may be based on one of the many drawings that Bannister made during sketching trips on his yacht, which he purchased in the early 1880s.
Although Bannister's work is well represented in the collections of notable American institutions, River Scene is only one of two paintings by the distinguished artist in a public Canadian art collection. It was acquired by the Art Gallery of Nova Scotia in 2006 under the direction of then Associate Curator David Woods. A leading scholar on Bannister's life and work, Woods is curating a major exhibition on the artist at the Owens Art Gallery, Mount Allison University, in Sackville, New Brunswick, in 2023. The show will offer an unprecedented look at Bannister's early life in St. Andrews, before he moved to Boston around 1854.
To learn more about this artist, see the ACI's online exhibition Artist and Abolitionist: The Gound-breaking Black Canadian Painter Edward Mitchell Bannister.