Leading Inuit artist Annie Pootoogook (1969–2016) rose to prominence in the early 2000s with her drawings of everyday life in the contemporary Arctic. In Cape Dorset Freezer, Pootoogook's bold undertaking to use reflections in plate glass to show the activity in her town's co-op store pushed her drawing skills to new heights. The glass doors delicately reveal the reflections of the shoppers and children admiring the contents, demonstrating Pootoogook's mastery of coloured pencil. One shopper wears an amauti, a parka with a large hood in which mothers carry their babies, and, behind her, another is pushing a grocery cart. A man holding a shopping basket looks intently through the glass at offerings that include Hungry-Man dinners, frozen vegetables, and other packaged products. The scene subtly reveals the collision of tradition and modern convenience that typifies communities across the North, and it cleverly plays on the oddity of bringing frozen goods up to the Arctic.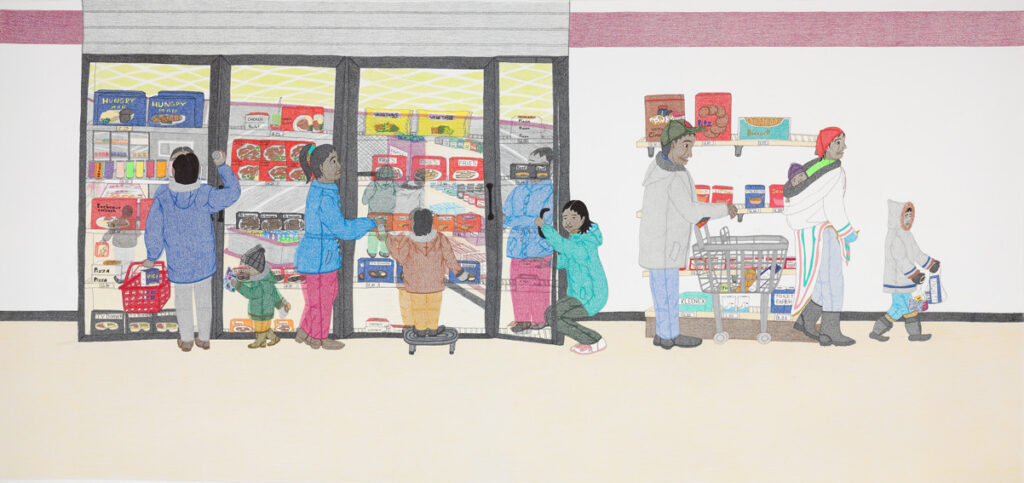 Pootoogook made this drawing for her 2006 exhibition at The Power Plant Contemporary Art Gallery. It was the first time she had worked at this scale, and to achieve this feat she was helped by the team at Kinngait Studios. Over the last fifteen years, large-scale drawings coming out of Kinngait Studios have attracted ever greater interest from collectors and museums. Pootoogook was at the forefront of this sea change with the production of Cape Dorset Freezer, which was immediately purchased by the National Gallery of Canada, Ottawa. The drawing announces a new, large-scale direction for contemporary Inuit art being produced out of Kinngait Studios, and Pootoogook's intention to create art outside the tradition.
This Spotlight is excerpted from Annie Pootoogook: Life & Work by Nancy G. Campbell.