Drawing on themes and imagery from science fiction, Sri Lankan-born, Toronto-based artist Rajni Perera (b.1985) explores issues of power, identity, ancestorship, and futurity. I take a journey, you take a journey, we take a journey together is part of Perera's Traveller series, which envisions immigrant and displaced peoples thriving in a world where large-scale environmental destruction represents the greatest threat to human survival. Perera says, "I am interested in the story of who is alive after we burn the world."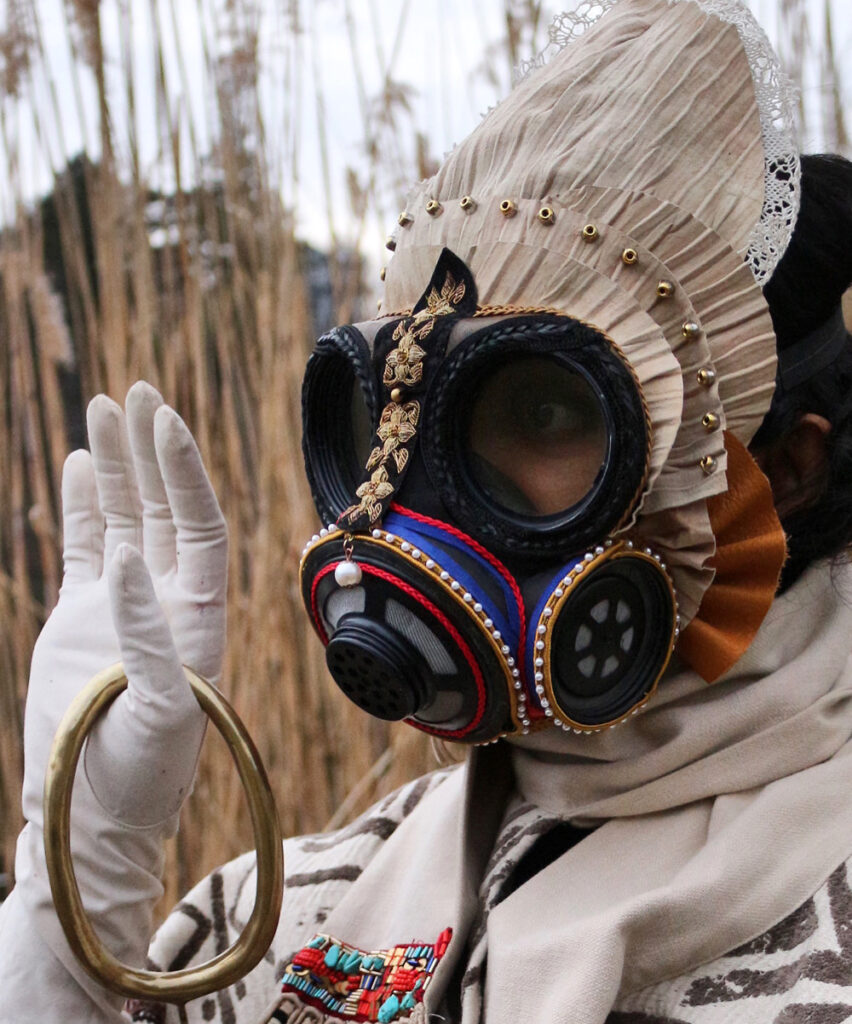 In this image, made in early 2020, Perera shows herself (photographed by her collaborator Nep Sidhu) wearing an ornately decorated rubber gas mask of her creation. Although her face is largely concealed to protect her from air pollution, Perera's mask, embellished with lace and pearls, communicates her personal identity as well as her elevated social status within the future world of Traveller. Presenting a mysterious egg-shaped golden ring in her raised hand, Perera emanates authority and mystical power.
The title of this work indicates that the diasporic Traveller is not alone but belongs to a community. The other works in Perera's series include surreal mixed-media portraits and sculptures of powerful beings who have physically evolved in order to survive the earth's environmental collapse and regeneration. In addition to masks, they wear ancestral armour that protects their body and spirit. Covered in layers of beautifully patterned fabrics and gold jewellery, the Travellers flourish by sharing their emotional, material, intellectual, and spiritual resources.
This artwork was featured in the ACI newsletter "Creativity in the Time of COVID" from October 2, 2020. Read the full newsletter here, or sign-up here to receive our weekly Canadian art highlights.