The leading Canadian sculptor in the early twentieth century, Toronto-born Walter S. Allward (1874–1955) is best known for the awe-inspiring Vimy Memorial in France. Vimy marks the place where more than 10,000 Canadian soldiers were killed or wounded in one of the most decisive battles of the First World War. The brutal four-day conflict that began on Easter Monday, April 9, 1917, represents the first time the four divisions of the Canadian Corps fought as a unit, and marks a defining moment in the nation's history. In capturing the ridge, Canada earned immense respect from its allies for fighting skill and bravery, while also stoking national pride at home.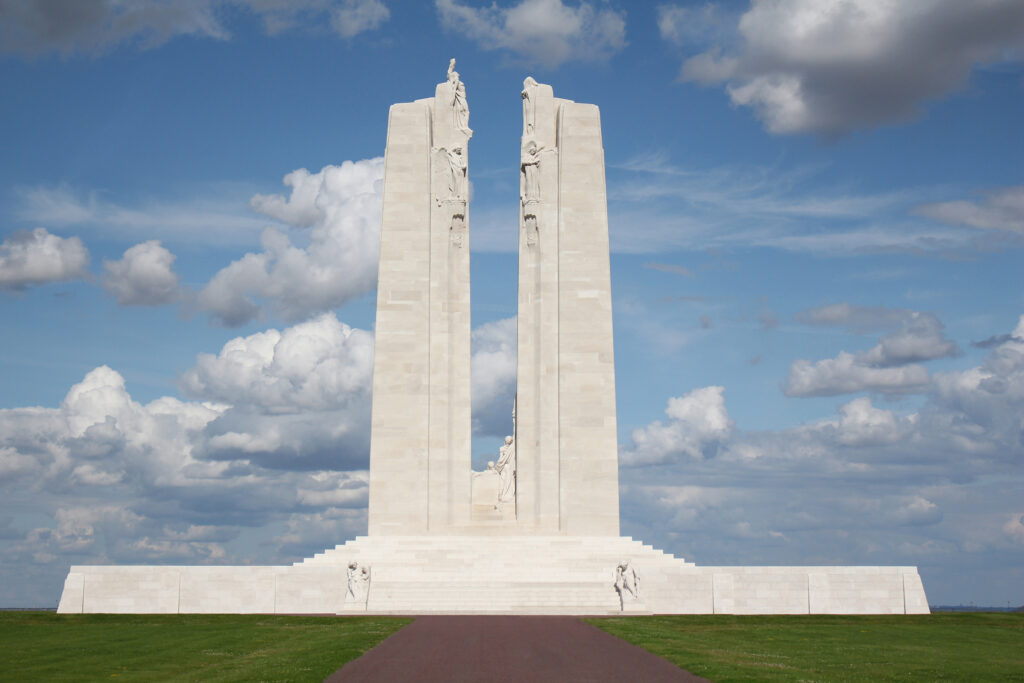 The monument features a horizontal base surmounted by two pylons, symbolizing Canada and France, rising 100 feet above the platform. It is adorned with twenty sculpted allegorical figures, including two groups that represent breaking the sword of war and the offering of sympathy to the grieving and helpless. At the top of the front wall stands "the heroic figure of Canada brooding over the graves of her valiant dead."
Behind this sculpture, at the base of the twin pylons, is a dying soldier, The Spirit of Sacrifice. He stands next to a figure portraying The Passing of the Torch, a reference to one of the most famous poems of the First World War, "In Flanders Fields" (1915) by John McCrae. Together, the two figures represent sacrifice and spiritual rebirth. Near the top of the pylons eight figures depict Faith, Hope, Honour, Charity, Knowledge, Justice, Truth, and, at the very top, Peace. Two reclining figures in mourning, symbolizing the grieving parents of dead soldiers, are positioned on each side of the stairs on the back of the monument.
With almost one million visitors a year, the Vimy Memorial remains one of Canada's best-known works of public art.
This Spotlight is excerpted from Walter S. Allward: Life & Work by Philip Dombowsky.