For more than thirty years, Vancouver-based artist Jin-me Yoon (b.1960) has created a stunning body of work that spans photography, video, and performance, all of which provoke viewers with urgent critiques and clear visions for better futures. Yoon's recent projects explore global networks and diasporas, demonstrating how colonialism and unrestrained development bankrupt both humanity and the planet.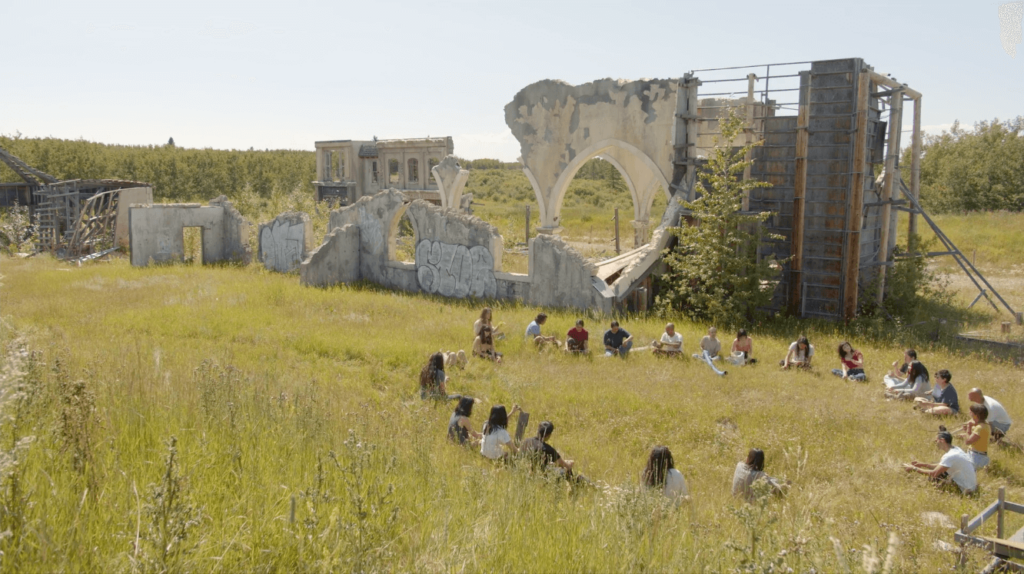 Untunnelling Vision is a multimedia installation, the production of which included elements of social practice and performance. The video, which is the main focus of this work, is structured in three parts and incorporates footage shot in a number of sites located near Mohkínstsis (Calgary, Alberta). Experimental camera techniques are used across the three parts of the video to embody multiple conceptions of time, resisting linear settler-colonial narratives of progress, evolution, and development.
The scene pictured above is found in the second part of the video, which is set on a piece of the Tsuut'ina Nation's land that the Canadian armed forces leased for war simulations. It is an important scene that reflects three years of relationship-building and workshops between Yoon, the Tsuut'ina Nation, and other artists based in Mohkínstsis. These gatherings were open to Indigenous and racialized people, and co-facilitated with the artist's sister, social justice advocate Jin-Sun Yoon. In the video, seated in a circle amidst the rubble, each participant creates an improvised instrument using detritus found on site. After a tentative beginning, the sound eventually resolves into a composition that is not dominated by one single theme or melody.
Connecting past, present, and future, and building the groundwork for other conditions and new possibilities, Untunnelling Vision marks a watershed in Yoon's oeuvre.
This Spotlight is excerpted from Jin-me Yoon: Life & Work by Ming Tiampo