Haida artist Iljuwas Bill Reid (1920–1998) is one of the most significant figures in Northwest Coast art of the late twentieth century. He created Eagle and Bear Box for display in the Canadian Pavilion at Expo 67 in Montreal. One of Reid's earliest gold boxes, it features engraved long-established Haida formlines and the face of a bear in bas-relief. Standing on the lid is an Eagle spreading its wings.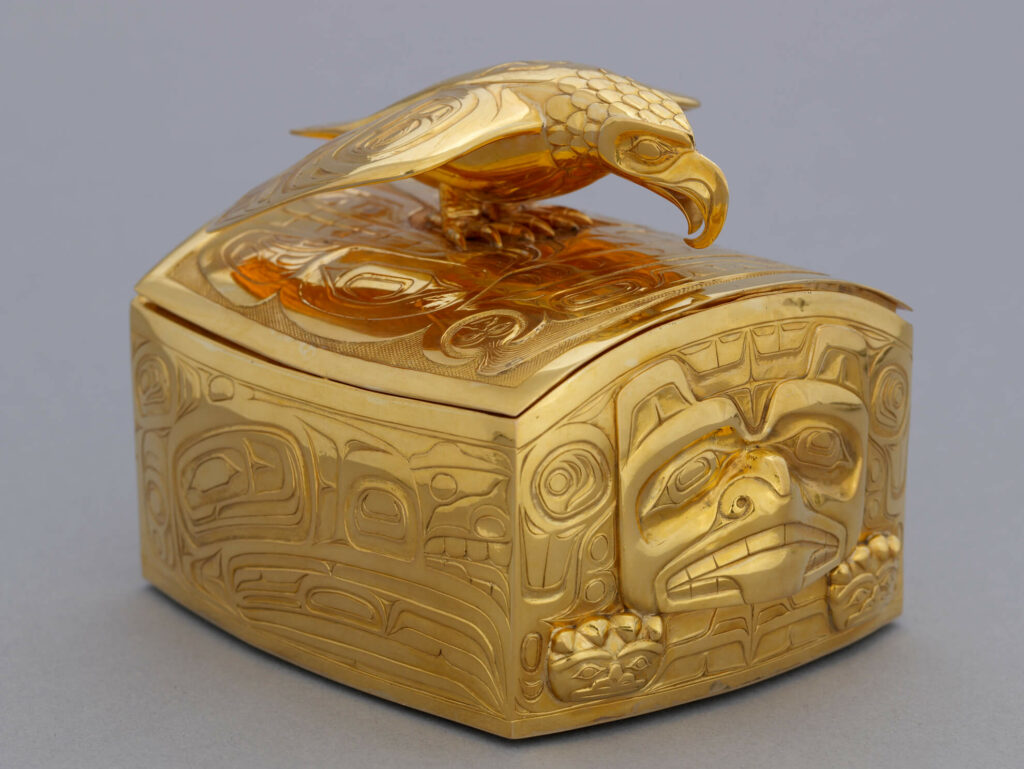 Reid was among more than a dozen Indigenous artists commissioned to exhibit at the Indians of Canada Pavilion at Expo 67. Contributors included Alex Janvier (b.1935), Carl Ray (1943–1978), and Norval Morrisseau (1931–2007). Reid turned down the commission because the pavilion's advisory committee requested he carve a generic-style pole, but such a pole simply did not exist. He noted: "If you hire a Haida carver you get a Haida pole. If you hire a Kwakuitl carver you get a Kwakuitl [sic] pole. . . . If you want a bastard pole, draw your own conclusions."
Reid understood the crucial responsibility involved in presenting and handling art with cultural and spiritual significance, and the problem of grouping all Indigenous peoples together. Instead of carving a pole for the Indians of Canada Pavilion, Reid created Eagle and Bear Box and exhibited it in the Canadian Pavilion, a building that aimed to portray the complex diversity of Canada from a different angle.
This Spotlight is excerpted from Iljuwas Bill Reid: Life & Work by Gerald McMaster.