Composition (Attack of the Tentacle Monsters) is a major work in the evolution of the practice of Shuvinai Ashoona (b.1961). It was first exhibited in 2015 in a collaborative two-person show at Feheley Fine Arts in Toronto and Pierre-François Ouellette art contemporain in Montreal. Titled Universal Cobra: Shuvinai Ashoona and Shary Boyle, this groundbreaking show included work by each artist, plus a number of exquisite collaborative drawings.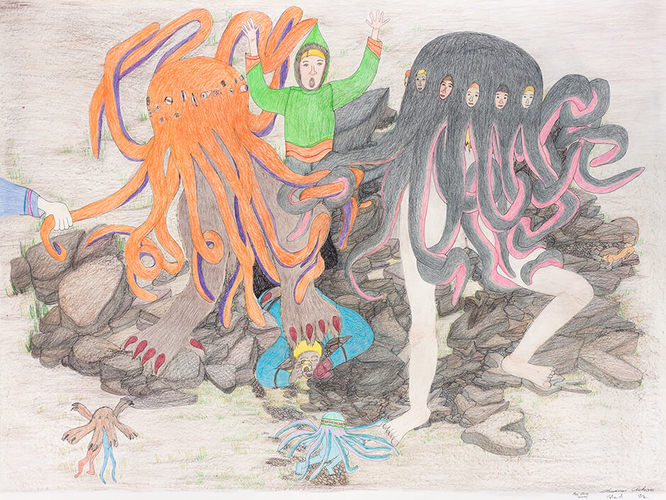 In Shuvinai's body of work from the second decade of the twenty-first century, surreal elements reveal an increasing freedom in imagery that juxtaposes fantastical monsters, sea creatures, people, and popular culture in rich colour. Composition (Attack of the Tentacle Monsters) shows this to brilliant effect and is at once violent and humorously absurd. There are seldom explanations for Shuvinai's imaginings; rather, they appear as dramatic stories that delight the artist.
The work showcases the progression and mastery of Shuvinai's artistic vocabulary. Hers has become a world of the artist's imaginings that is embedded in her Inuit upbringing and environs but remains singularly her own. Like the Surrealists before her, Shuvinai uses her imagination and free association to produce surprising, unexpected imagery.
This Spotlight is excerpted from Shuvinai Ashoona: Life & Work by Nancy G. Campbell.