Hunting Monster, 2015, is an important work by Shuvinai Ashoona (b.1961), an artist who rose in prominence in the second decade of the twenty-first century (most notably she was the 2019 recipient of the Gershon Iskowitz Prize). Renowned for her robust imagination, in many of her drawings Shuvinai references traditional Inuit iconography, from daily life to shamans and mythic figures such as the sea goddess Sedna, but she is best known for developing a highly personal iconography. With imagery ranging from closely observed naturalistic scenes of her Arctic home to strange, monstrous, and fantastical visions, she evokes altered states of mind and shifting perceptions.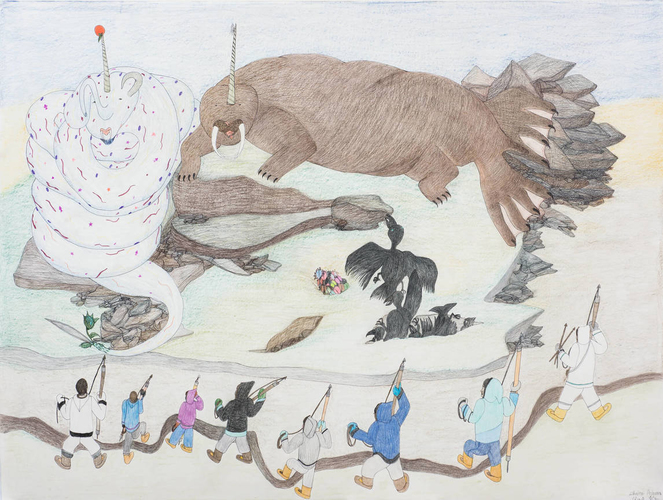 In the early 2000s, artist and photographer William Ritchie (b.1954), manager of Kinngait Studios, Shuvinai's workplace, encouraged the artist to expand her subject matter, to mine her imaginings and historic stories from Inuit culture, popular culture, and Christian iconography. She began to set hybrid creatures and evocative human figures against highly detailed northern landscapes, which have come to be expertly realized, as is well demonstrated in Hunting Monster, where hunters shoot imaginary and oversized prey.
In recent years sea creatures have figured prominently in her work. Shuvinai's initial interest in sea creatures likely developed when she was a young girl clamming on the beach, fishing, and seeing large sea creatures such as whales, walruses, and narwhals on the beach for butchering. Her attraction to these images was further fuelled after watching movies such as Jaws (one of her favourites) on television. In 2015 when Shuvinai was in Toronto, she visited the Ripley's Aquarium of Canada and was delighted by what she saw. In Hunting Monster, she invites us to share the richness of her imagination.
For more on this artist, see Shuvinai Ashoona: Life & Work.