In 2008, Alberta-based curator Wayne Baerwaldt invited John Noestheden (b.1945) from Regina and Shuvinai Ashoona (b.1961) from Cape Dorset to meet in Calgary. There the two artists collaborated on a five-metre-vertical drawing that would be made into a forty-metre banner for an event to be held at the Basel Art Fair in Switzerland: the Stadthimmel ("Citysky") project, curated by Klaus Littmann with assistance from Edek Bartz.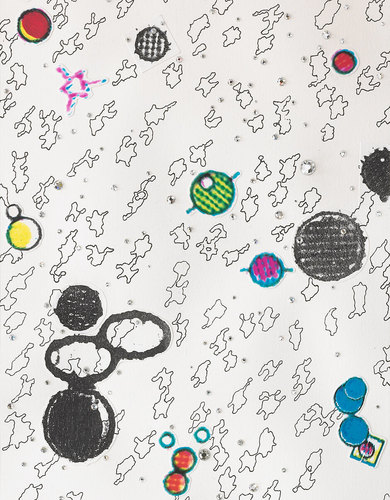 The original drawing for the banner was produced by Shuvinai and Noestheden while they were in residence at the Illingworth Kerr Gallery at the Alberta College of Art + Design in Calgary. Shuvinai would attack the paper directly with her Fineliner pen, rarely lifting it off the page, while John watched closely and made comments. John "drew" with the photocopier, placing dozens of cut-out stars and glass crystals on the paper. They negotiated where Shuvinai would stop the earth and John would start the heavens, and where some of John's stars would find themselves in both realms. Shuvinai developed five horizons and decided that stars could exist between those multiple horizons. She also saw the stars as snowflakes and requested that they be placed on her stone outcroppings. Ambiguity, experimentation, daring, and playfulness all had a role in this highly collaborative effort.
The result was Earth and Sky, a mixed-media drawing that combines Arctic landscapes and astronomical bodies, primarily rendered in black and white line drawings with occasional punctuations of bold, bright colour. The drawing was then commercially transferred to a forty-metre banner that spanned a streetscape in Basel, introducing a world of stars and Arctic wildlife to the pedestrians below.
This Spotlight is excerpted from Shuvinai Ashoona: Life & Work by Nancy G. Campbell.