The Ursuline Nuns signals a maturing of the visual language through which the painter Jean Paul Lemieux (1904–1990) would assert his artistic personality. For Lemieux, portraying his times in painted form required a long process of investigation, research, and refinement by trial and error. He divides the pictorial space into a restricted range of horizontal, vertical, and angled motifs softened by a few curving lines: the nuns' veils, the three arcades, and a blind doorway. This geometric design has the effect of suggesting permanence, an impression reinforced by the sober colours.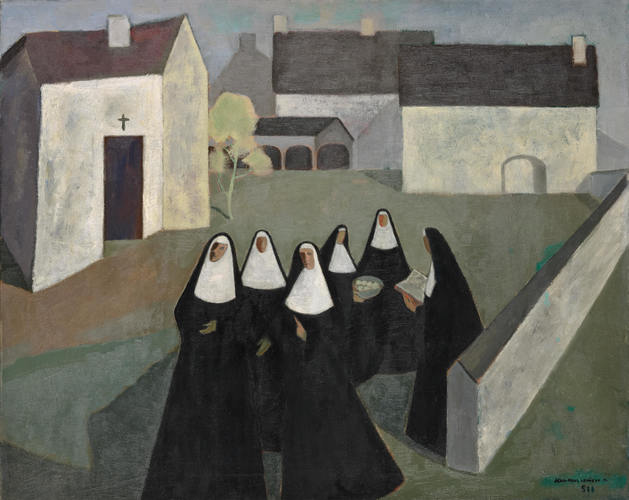 The blank walls of the buildings, the bricked-up openings, and the absence of a horizon add a sense of enclosure, increasing the effect of settled permanence. The nuns, who came from Tours and Dieppe in the seventeenth century to devote themselves to the education of Indigenous and French settlers' children, remained a cloistered order until 1967. Lemieux shows them in their garden, the only place they were allowed to go outside the walls of the convent.
The Ursuline Nuns is a powerful evocation of the monastic life, and of movement suspended in an undefined moment of time, in which only the tree, the basket of fruit, and the cast shadows bring us back to the reality of a sunny summer day.
This Spotlight is excerpted from Jean Paul Lemieux: Life & Work by Michèle Grandbois.