The Little Worker, by the Canadian Impressionist Helen McNicoll (1879–1915), shows a young girl on a hillside, walking with a metal pail, her arm outstretched to balance the weight of her burden. She is alone in the landscape but for a trio of accompanying chickens; a fence and shed are only just visible at the top of the canvas. The perspective McNicoll adopts is surprisingly modern: the viewer, situated at the bottom of the hill, looks up at the girl as the landscape rises sharply, creating a relatively shallow sense of space in which both the viewer and the girl are immersed.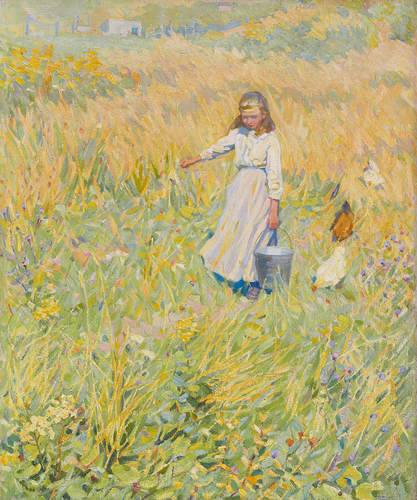 This sense of immersion originated with the French Barbizon painters, who favoured realism in their landscape paintings, and reverses traditional landscape imagery that positions the viewer overlooking an uninterrupted vista. McNicoll's luminous treatment of the sunny field in The Little Worker accentuates this sense of immersion. The field grasses appear to ripple in the breeze, and the bright yellow-green tones stimulate the viewer's senses. We can almost feel the warmth of the sun, smell the scent of the hay, and hear the rustle of the pasture.
McNicoll's formal choices also give us a sense of the girl's hard work, reminding us of the distance she has travelled and the uphill trek she faces after her chores. The girl is fully dressed, with heavy shoes, and shown in full concentration on her task, oblivious to the viewer's gaze.
This Spotlight is excerpted from Helen McNicoll: Life & Work by Samantha Burton.