Created while Robert Houle (b. 1947) was in residence at the Winnipeg Art Gallery in 1989, Muhnedobe uhyahyuk consists of four monumental abstract paintings, each named after an apostle of Jesus and derived from sketches for Houle's earlier work Parfleches for the Last Supper, 1983.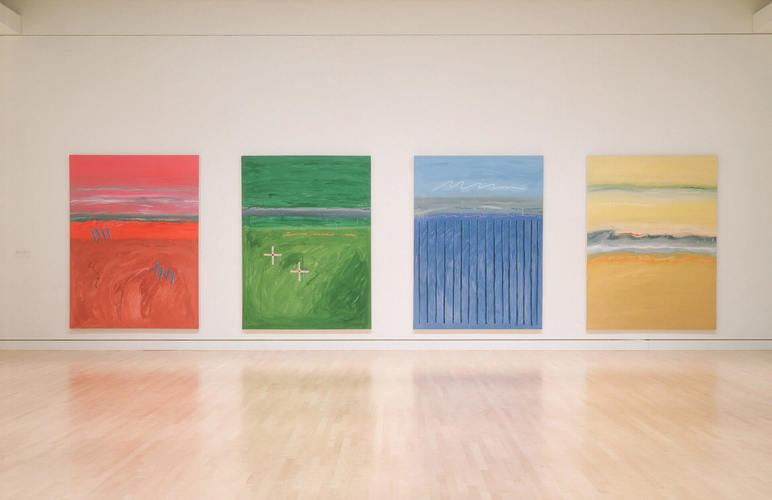 Situated near Houle's childhood home, the sacred place referred to in these paintings is a revered natural phenomenon that was legendary and a site of pilgrimage for the Saulteaux. It is also the place from which the province of Manitoba derived its name. The Anishnabec refer to it as Manitowapah or manitou-pii-uhyàhuk. Approximately 200 kilometres northwest of Winnipeg, it is a specific spot where the current ebbs and flows on a narrow stretch of Lake Manitoba. As the water hits the porous limestone of the shore, it makes a muffled drone resembling faraway drums, creating the sound of ke-mishomis-na-ug ("our ancestors"), believed to be the voice of Manitou (the sacred spirit being). For the Saulteaux, the Narrows are known as muhnedobe uhyahyuk, meaning the "divine straits," or translated as "the place where the gods are present."

Muhnedobe uhyahyuk is a work of re-appropriating and reclaiming Manitoba. Although, with an ambiguous painterly horizon line, the paintings allude to the landscape, Houle did not create the works as landscape paintings. Rather, they are "landscapes for the mind."
This Spotlight is excerpted from Robert Houle: Life & Work by Shirley Madill.