In this impressionist painting by Helen McNicoll (1879–1915), a French rural market is loosely and colourfully rendered. The bright, ripe tones show the time and season while the fruits and vegetables evoke the touch, taste, and smell of a fall day. Warm sun glints off the nearby white buildings; the stand itself remains shaded. This pictorial play of light is echoed by a shop sign in the background that reads "Eclairage Chauffage"—"lighting, heating." One impression of a passing moment. Everyday life captured for posterity by the artist.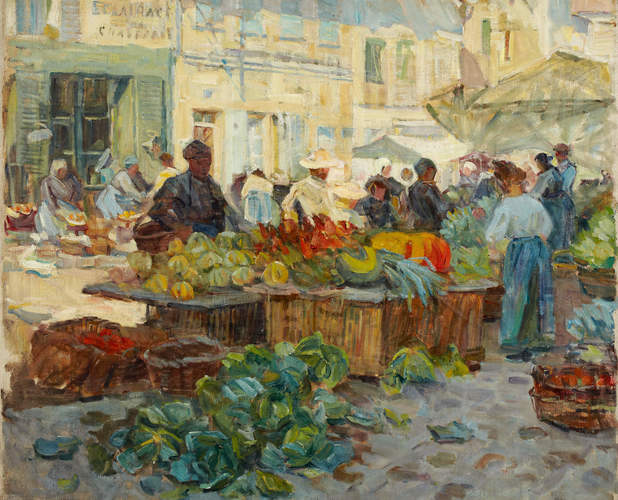 This crowd scene is different from the majority of the artist's work. Usually McNicoll featured only one or two figures and very few of her canvases depict urban subjects. Female Impressionists were restricted in their access to city streets and open spaces, much more so than their male colleagues, and McNicoll's fellow Canadian Impressionists showed little interest in the preferred urban scenes of their French peers. In Marketplace, McNicoll's unique approach to painting prevails.
This Spotlight is excerpted from Helen McNicoll: Life & Work by Samantha Burton.