Cranberry Marsh is a step in the direction of abstraction—a step toward an end that Tom Thomson (1877–1917) never got the opportunity to explore because of his untimely death. This oil sketch demonstrates a shift in the artist's manner of expression. Thomson's normal landscape conventions begin to fade, his hues become more vibrant, and his compositions, while still recognizable as subjects, become battlefields for layers of close-hued or clashing paint.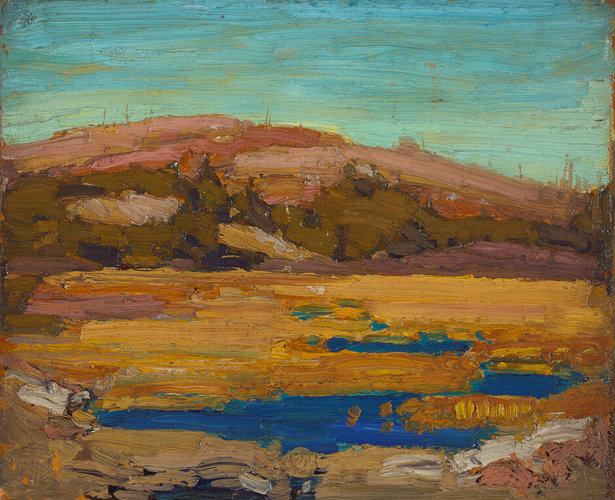 As a subject, Cranberry Marsh is hardly dramatic: a swamp with a low round hill behind it, basking in a hot early-summer sun. Yet Thomson transforms it into a scintillating portrait of bright light and keen perception. The horizontal emphasis is strong and powerful; the gentle mound of the hill, which defines the arc of the sky, and the slight curl of the foreground are the only exceptions.
What really jolts the viewer, however, is the central glowing field of the marsh itself: the bright golden yellows, the tangerine oranges, and the scattered threads of alizarin crimson are like a carpet of sunshine or the hottest coals of a forge. Piercing this broad, flat area are the dazzlingly intense small pools of lapis lazuli with some teal green, a deep contrasting colour that changes the palette of the painting like an abrupt change of tempo in music.
This Spotlight is excerpted from Tom Thomson: Life & Work by David P. Silcox.