When Rollande by Montreal artist Prudence Heward (1896–1947) was shown in February 1930 as part of the Fifth Annual Exhibition of Canadian Art at the National Gallery of Canada, Ottawa, the painting was singled out as a showstopper. The Regina Leader wrote: "No picture is attracting more appreciative attention than 'Rollande,' by Prudence Heward, the young Montreal artist who took first place last year in the Lord Willingdon competitions with her painting 'Girl on Hill.'" The painting continued to receive positive reviews when it was exhibited in the United States in 1930, and in Australia, New Zealand, Hawaii, and South Africa in 1936.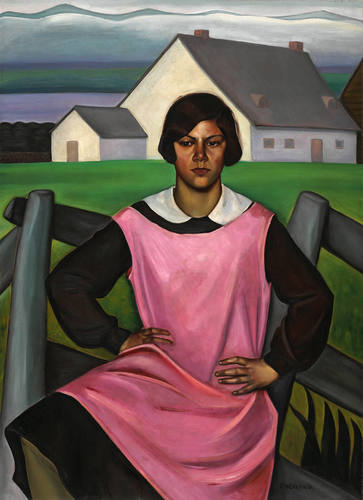 Heward often painted women in rural settings. She enjoyed painting and sketching landscapes around Fernbank (Athens, Brockville), where her family had a cottage, as well as areas of rural Quebec (Knowlton, Laurentians, Eastern Townships), which she incorporated into many of her portraits of women.
It's unclear how Heward and the work's sitter Rollande came to know each other. The subject is depicted with a tight mouth and angled eyebrows, giving her an intense, even angry, appearance: Heward established a pattern of illustrating solitary women as modern, self-contained subjects.
This Spotlight is excerpted from Prudence Heward: Life & Work by Julia Skelly.