In this work, Toronto painter and Russian émigré Paraskeva Clark (1898–1986) arranged her figures alongside two long tables that rise up diagonally from the lower part of the picture. As they pack and repair parachutes, the women's bodies and arm gestures form a dynamic zigzag pattern across the surface of the picture. The scene is viewed from a position just above their heads—a device Clark's teacher Kuzma Petrov-Vodkin (1878–1939) had used.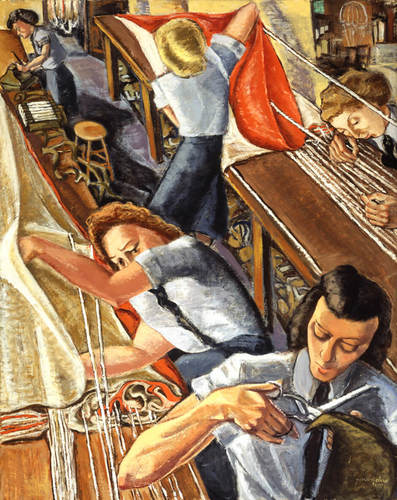 In the 1940s, H.O. McCurry, the director of the National Gallery of Canada, Ottawa, commissioned Clark to paint the contribution of the Women's Division of the Royal Canadian Air Force (RCAF) to the war effort. Parachute Riggers is one of the three works she eventually submitted.
McCurry had instructed her to find a dramatic subject; instead, she gave the subject of women preparing parachutes a dramatic composition.
This Spotlight is excerpted from Paraskeva Clark: Life & Work by Christine Boyanoski.