This is the final canvas in the series An Immigrant Farms in Canada, twenty paintings William Kurelek (1927–1977) exhibited at Isaacs Gallery, Toronto, in September 1964. The series details the journey of farming families from Ukraine to Western Canada and eventually their arrival in Southern Ontario. It recounts a progressive story from struggle to survival to economic security—a rational reconstruction of the immigrant narrative that at least one critic disparaged.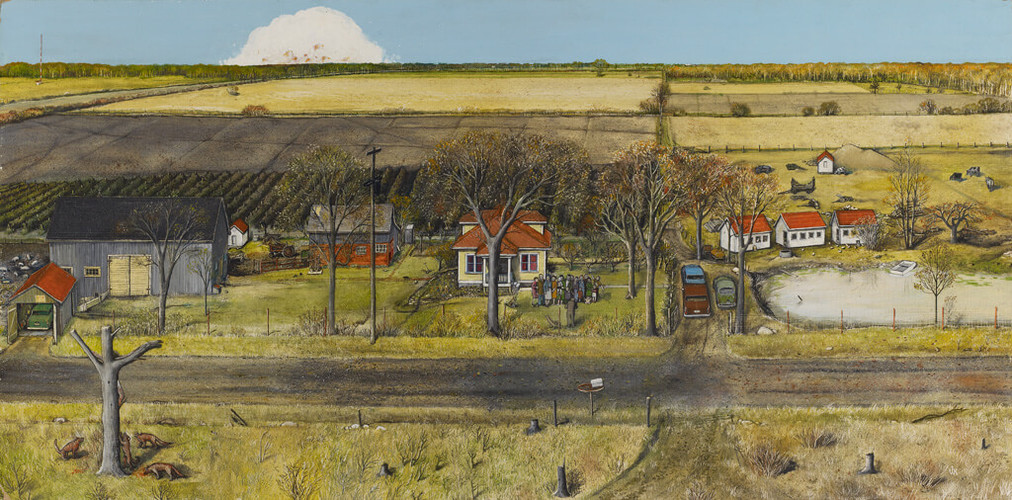 As the culminating work in the series, In the Autumn of Life presents an elevated view of Kurelek's parents' farm in Vinemount, Ontario. The agrarian setting plays backdrop to a family reunion, and the artist's extended family are shown gathered for a group photograph. Kurelek appears in the family grouping, fifth from the right.
Closer study of the painting reveals several disquieting elements that undermine the painting's function as a sincere celebration of social mobility. A Christ figure appears in the bottom-left foreground, crucified on a dead tree and surrounded by ravenous dogs that clamour over the spilled blood. More foreboding still is the giant mushroom cloud that Kurelek uses as the iconic symbol of nuclear war and a reminder that technological advancement does not necessarily make for peace and harmony.
This Spotlight is excerpted from William Kurelek: Life & Work by Andrew Kear.