Dogs Fighting is one of the earliest known sculptures by Inuit artist Oviloo Tunnillie (1949–2014). A masterfully complex composition of four dogs forming a pyramid of interlocking bodies, it reflects the elegant and realistic animal compositions she created during the 1970s and 1980s.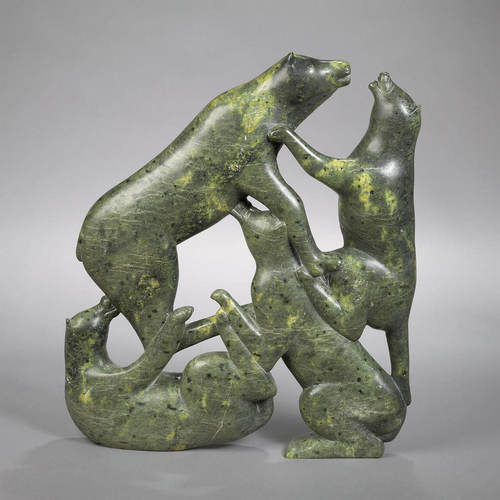 While carvings of animals were the most frequent subjects for Cape Dorset artists at this time and remain so to the present, dogs were not a frequent subject. They were, however, an important part of the artist's life and traditional Inuit culture. In an interview in 1991 she explained, "I have always liked dogs and for a little while I carved dogs. . . . I have carved this, depicting dogs in a fight. Dogs used to get into a fight with each other." In another work, Protecting the Dogs, 2002, Oviloo directly addressed the colonization of northern communities through references to the slaughter of Inuit sled dogs by the Royal Canadian Mounted Police in the 1950s and 1960s.
In 1994 Dogs Fighting was included in the major exhibition and catalogue Inuit Women Artists: Voices from Cape Dorset, produced by the Canadian Museum of Civilization (now the Canadian Museum of History).
This Spotlight is excerpted from Oviloo Tunnillie: Life & Work by Darlene Coward Wight.