How can a work of art be heard? Can its rhythm become visible, its movement and accents rendered musically perceptible to the senses? The genre scene Boy with Bread by the Quebecois painter and muralist Ozias Leduc (1864–1955) offers answers to these questions. The curved posture of the boy as he bends forward, his relaxed and at the same time attentive demeanour, convey a serene melody and quiet air that invites a sense of calm, of dream. A slow compositional movement is sketched, suited to his wandering imagination.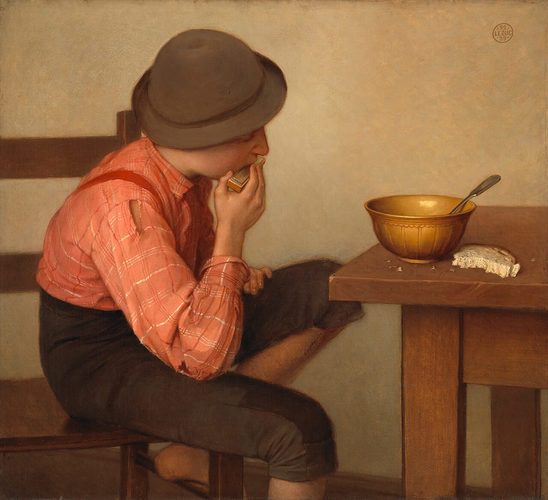 The tension between youth and the passage of time (signs of wear, a meal just begun) is the painting's main theme. The balance of Leduc's compositions often rests on this point of tension. As he wrote in 1943 to his friend and former student Paul-Émile Borduas (1905–1960): "Art teaches, informs. It reveals the soul. There is no doubt that it has the power to transform the chaos of the unconscious into an ordered cosmos. It leads us away from disorder, suffering, and imbalance toward stability, harmony, and joy." Leduc reminds us that concentration, contemplation, and imagination are useful tools for penetrating a work of art, allowing it to be fully understood—by taking in its unifying lines while at the same time closely attending to the details.
This Spotlight is excerpted from Ozias Leduc: Life & Work by Laurier Lacroix.