The image in Untitled (Birds Flying Overhead) is one that Inuit artist Pitseolak Ashoona (c.1904–1983) repeats in drawings throughout the 1970s and early 1980s, with many variations—a solitary woman sitting, running, or straining with both arms toward birds in the sky. Of her more than eight thousand drawings, more than half include birds as the primary subject in a multitude of contexts. Pitseolak's name may have given her a personal affinity for birds: "My name is Pitseolak, the Eskimo word for the sea pigeon. When I see pitseolaks over the sea, I say, There go those lovely birds—that's me, flying!" She continued, describing her work almost as a flock: "I don't know how many drawings I have done, but more than a thousand. There are many Pitseolaks now—I have signed my name many times."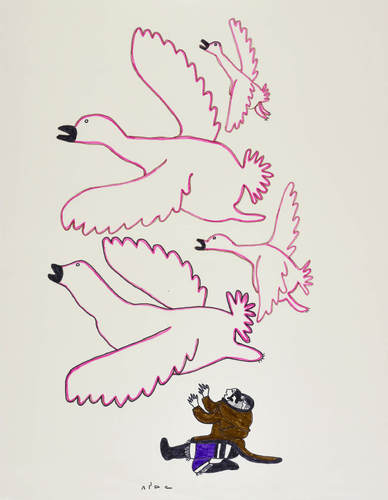 More poignantly, her memories of the time following the death of her husband, Ashoona, hint at the depth of her feeling and her connection to birds:
"When my husband died at Netsilik, even though I had relatives, it was as if my whole family had died. . . . When the geese were coming south and flying overhead down here past Cape Dorset, I used to think, 'These geese have been with Ashoona back in Netsilik. They've been at Ashoona's grave.' When it was really dark and I could hear the geese overhead, I'd go outside and I'd yell 'Goodbye, goodbye!'"
This Spotlight is excerpted from Pitseolak Ashoona: Life & Work by Christine Lalonde.