Canadian landscape painter Tom Thomson (1877–1917) was enthralled by clouds in all their variety—clouds in stormy weather, puffy clouds on bright summer days, clouds bringing rain or snow, or clouds, as in Sunset, setting the sky on fire. His constant preoccupation with skies, clouds, and sunsets reached a peak with this painting as he entered the most productive and accomplished period of his short career (1915–1917).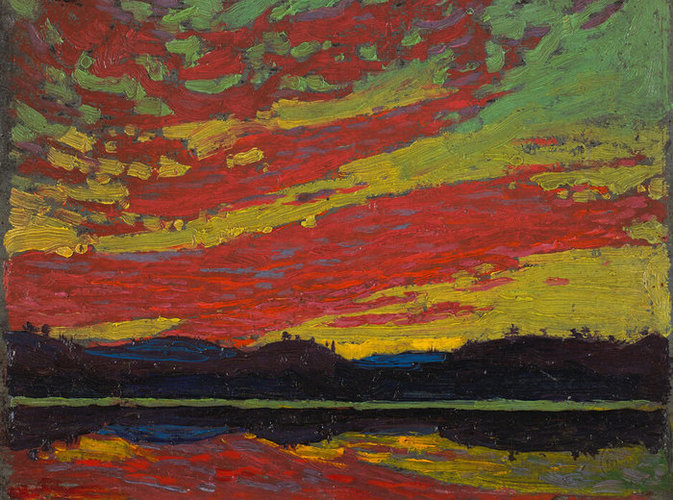 The blood-soaked sunsets painted by the Norwegian artist Edvard Munch (1863–1944) had startled the world in the mid-1880s after Krakatoa, in 1883, blew tons of volcanic ash into the atmosphere to produce sunsets never seen before. Nature gave Thomson similar assistance in 1915 after the volcanic eruption of California's Lassen Peak in May that year—the "Great Explosion"—caused spectacular sunsets in the northern hemisphere.
Thomson sketched this scene from a canoe, almost at water level, with the universe wrapped around him. He portrays the sunset in shocking hues and agitated brushwork, with a blazing reflection in the lake that doubles its allure, magic, and power. He paints not just crimson clouds but an acid yellow-and-green sky behind them. With this small image, he takes liberties and soars above mere documentation, capturing the brilliance, drama, and fleeting nature of a sunset in Algonquin Park.
This Spotlight is excerpted from Tom Thomson: Life & Work by David P. Silcox.