Gershon Iskowitz (1920 or 1921–1988), a painter, Holocaust survivor, and Polish émigré, drew on a 1967 trip to Churchill, Manitoba, and the flights he took over the surrounding landscape to create the paintings in his Lowlands series.
These thirteen works are unique in his oeuvre because they all share a boldly coloured central band with a "stem" that extends to the bottom of the canvas. If the stem element represents an estuary—the tidal mouth of the Churchill River emptying into Hudson Bay—then the band across the top is sky and the flanking forms at the bottom edge are the land that creates the mouth of the estuary. Iskowitz explained that the paintings in the series reflect the "swoop down" of the plane flying over the landscape.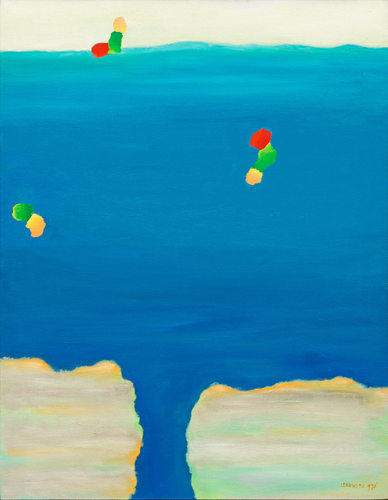 The pictorial space of Lowlands No. 9, with its small clusters of two or three "blips," bears no resemblance to the kind of nonrepresentational painting dominated at the time by Canadian artists such as Jack Bush (1909–1977), Yves Gaucher (1934–2000), and Guido Molinari (1933–2004). Nor do Iskowitz's Lowlands pieces fit comfortably into any of the then-current abstract categories of colour-field, hard-edge, or systemic optical painting. They are unique. In them, the artist was inventing a painting language that would be his alone.
This Spotlight is excerpted from Gershon Iskowitz: Life & Work by Ihor Holubizky.