The Québécois abstract painter Yves Gaucher (1934–2000) developed a very personal palette, happily resorting—alongside many variations of red, yellow, and blue—to greens, pinks, beiges, browns, purples, and greys in unexpected juxtapositions and a subjective immersion in individual colours.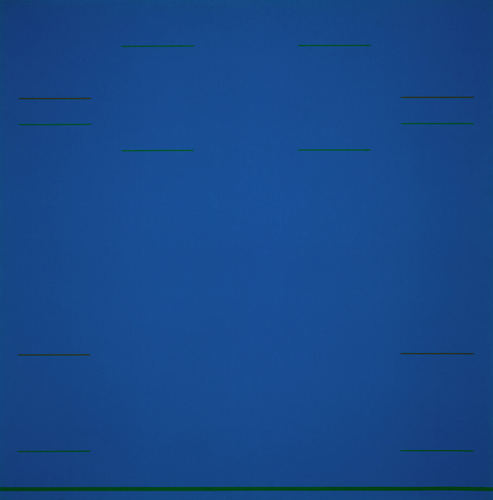 In Blue Raga, green and brown "signal" lines rise as if in gentle ascent toward the top of the painting, where there are no framing constraints. They hover so tentatively over the deep and intense blue field that they seem hardly to touch it, like whispers of sound delicately improvised above the obbligato provided by the green band below.
The title of the painting reflects Gaucher's passion for Indian music, and its single colour ground becomes its major theme. The overlying signals and bands are not the main event but serve to enhance and intensify the breadth and depth of the painting's hue. It unfolds its rhythms discreetly, introducing a mood of contemplativeness that would come to reign supreme in the long series of Grey on Grey paintings that Gaucher began in December 1967.
This Spotlight is excerpted from Yves Gaucher: Life & Work by Roald Nasgaard.