London, Ontario, artist Greg Curnoe (1936–1992) painted the series The True North Strong and Free, #1–5 immediately after his mural Homage to the R 34, October 1967–March 1968, was removed from the Montreal International Airport in Dorval, Quebec, because of its perceived anti-Americanism. The artist expresses his reaction to the censorship of his major work, as well as some disappointment: "CANADA ALWAYS LOSES!" While he had used rubber-stamped texts in his work since the beginning of his career, this is the first time Curnoe employed them at a large scale.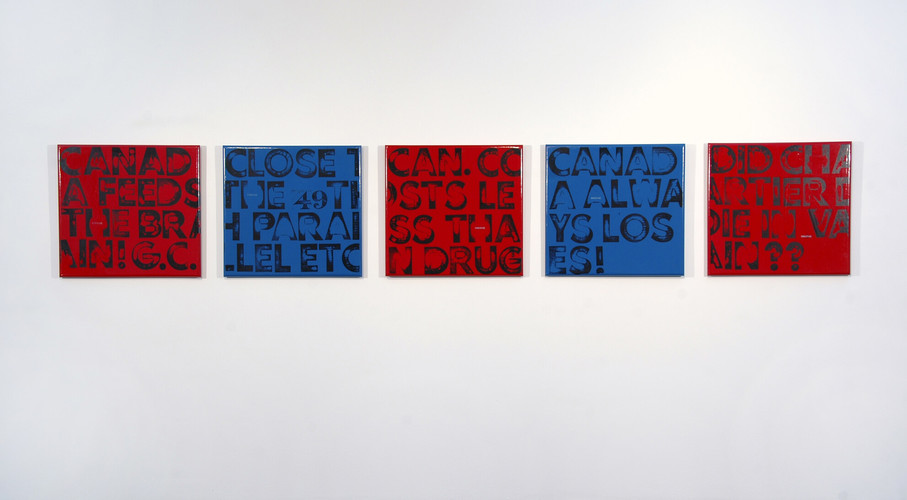 Curnoe's phrase "CLOSE THE 49th PARALLEL ETC," an allusion to the geographic line that forms the international boundary between part of Canada and the United States, is characteristic of his developing pro-Canadian, anti-American stance. It caught the imagination of other nationalists at a time of debate about increasing American influence on Canada. For example, editor Ian Lumsden used it as the title of a 1970 anthology: Close the 49th Parallel etc: The Americanization of Canada. Curnoe also put this phrase (in both English and French) on his first Mariposa bicycle and further developed this theme in his satirical 1972 work, Map of North America.
This Spotlight is excerpted from Greg Curnoe: Life & Work by Judith Rodger.