This is a painting that evokes the social concerns of Canadian painter Bertram Brooker (1888–1955), specifically his compassion for individuals who have been marginalized: the subject is a solitary, unwelcome member of society. As was customary for Brooker by the time he painted this work, the representational elements are combined with abstraction. The deeply haunted face of the man turning to stare at the viewer is in sharp contrast to the quasi-geometrical shapes behind him. In addition, as Anna Hudson notes, the three telephone poles recede into space: "Their function is to signal the absence of beauty in urban life, and, by implication, of harmonious social order."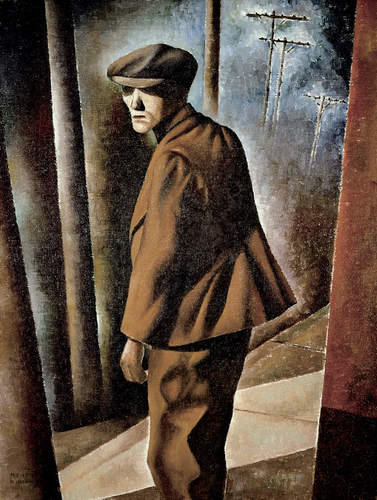 The Recluse also underscores an important principle for Brooker concerning the relationship between social action and artistic practice:
"No sensitive man—whether artist or not—can remain unstirred by suffering on so gigantic scale as grips the world at present. As a man—as a citizen—as a member of the human fraternity—the artist should be prepared to do something about it. But, as artist, he should not preach about it. The moment he becomes a missionary he ceases to be an artist."
This Spotlight is excerpted from Bertram Brooker: Life & Work by James King.