The art critic Robert Ayre referred to Winnipeg painter Lionel LeMoine FitzGerald (1890–1956) as "the man who looks out of the window." From an Upstairs Window, Winter is the crowning achievement of the interior/exterior views that characterized so much of FitzGerald's work. Here, the artist's vantage point is from an attic window overlooking his backyard at 160 Lyle Street in Winnipeg.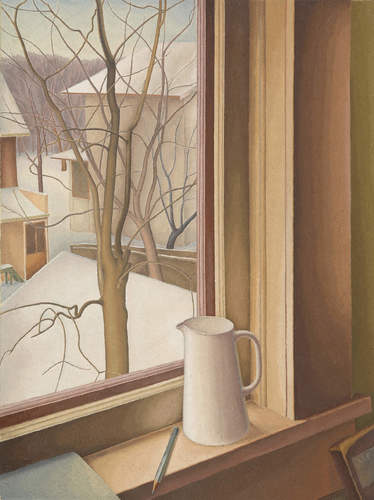 FitzGerald was initially fascinated by the oblique view to the large tree outside the upstairs window, which he captured in an earlier pencil drawing. The eventual oil painting is a study in formal opposites. The irregular tracery of tree limbs and their interstices is juxtaposed to the linearity of the windowsill and the geometry of the jug. Yet a limited palette and tonal modulations that animate both worlds unite inside and outside. Like the interplay between the organic and geometric elements of FitzGerald's 1931 work Doc Snyder's House, From an Upstairs Window, Winter exhibits a harmonious balance between the natural and the abstract. It is as complete a statement as the artist ever made of how familiar surroundings could act as a reflection of his own quiet and contemplative spirit.
This Spotlight is excerpted from Lionel LeMoine FitzGerald: Life & Work by Michael Parke-Taylor.