The idea for this painting by Lionel LeMoine FitzGerald (1890–1956), which takes as a subject a begonia sitting on a windowsill with a view to the wooded backyard behind his house, may have derived from a 1943 photograph. The Little Plant combines elements of both still life and landscape in a single picture. With its harmonious balance of realism and abstraction as well as beautiful colour and design elements, The Little Plant may be considered one of FitzGerald's greatest achievements in paint. Here, the exuberant growth of the flowering plant indoors is counterpoint to the animated energy of the thick screen of trees outside.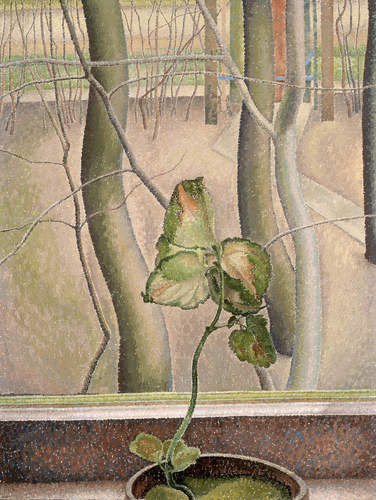 FitzGerald's greatest concern was to express a unity in all the elements of the picture so that indoors and outdoors were joined together as one living entity. By wresting a rhythmic geometry from the tangle of nature, FitzGerald creates a world at once more animated and more tranquil than what appeared before his eyes. Perhaps it was this dream-like coexistence of movement and stillness that made this painting the favourite of his daughter, Patricia.
This Spotlight is excerpted from Lionel LeMoine FitzGerald: Life & Work by Michael Parke-Taylor.