Canadian war artist Molly Lamb Bobak (1920–2014) was a "passionate spectator" who always found meaning and beauty in the everyday world around her. In her paintings of skaters from the late 1960s, she drew inspiration from the American abstract-expressionist Sam Francis (1923–1994). In Rink Theme—Skaters, Lamb Bobak adopts an unusual bird's-eye perspective and pushes the figures to the edge of the composition, leaving a large area of negative space in the middle. She paints the image without any horizon line, thereby encouraging viewers to follow the blur of skaters circling the rink. Though the painting veers toward abstraction, its main focus is on movement and positioning the figures in space.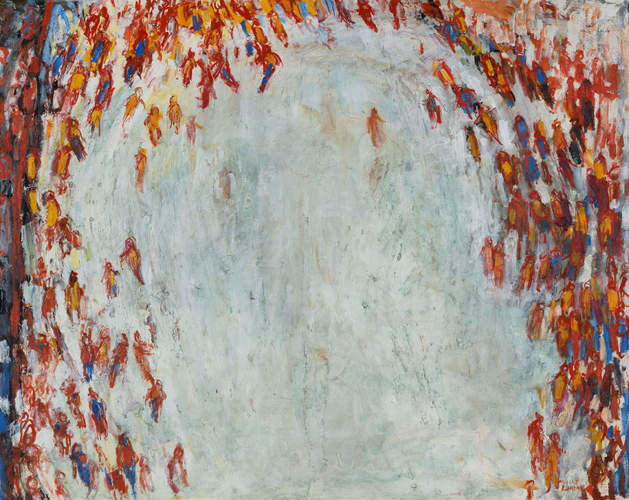 Lamb Bobak created many compositions of skaters—a quintessentially Canadian theme—in a variety of media, but she never descended into kitsch. The works play with negative space to help achieve their vitality. Lamb Bobak attributed this aspect of her work to the influence of Eastern art, citing (without any identification) a composition that featured two small persimmons at the bottom of the picture plane amid an otherwise empty space.
This Spotlight is excerpted from Molly Lamb Bobak: Life & Work by Michelle Gewurtz.