Of all the works he created, Greg Curnoe (1936–1992) is perhaps best known for his paintings of bicycles. He had taken up competitive cycling in 1971, purchasing two racing bicycles, a Spanish Zeus and a French Gitane. He then discovered that he could order a custom-made, hand-built Canadian racing bicycle. When he went to pick up his Mariposa ten-speed in Toronto, he applied black peel-and-stick letters to the top tube of the bright yellow bike—"CLOSE THE 49th PARALLEL ETC" on one side and "FERMEZ LE 49E PARALLÈLE ETC" on the other.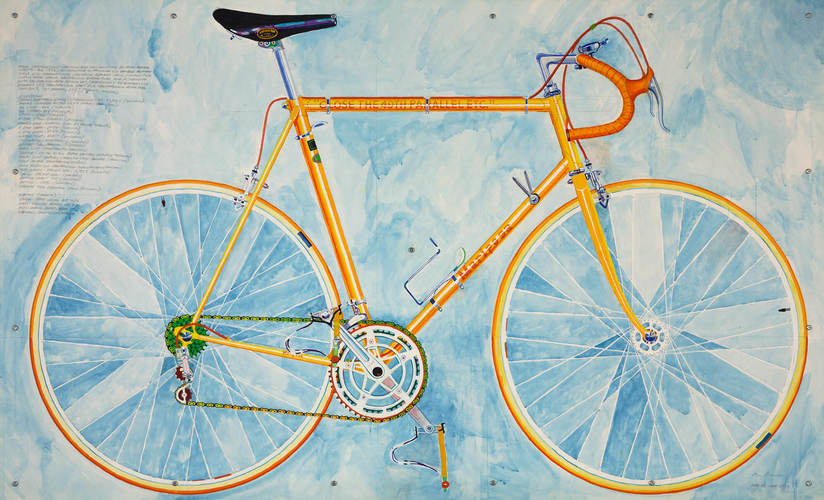 Following two actual-sized, cut-out paintings of the Zeus in acrylic on plywood in 1972, Curnoe created two full-scale watercolours, the largest of this medium he had attempted to date, of each profile of his new Mariposa, always his favourite bicycle. Mariposa 10 Speed No. 2 is his portrait of the bike with the English lettering visible. These works were an enormous technical challenge, and Curnoe may have been the only person working in this medium at this scale at that time. Eventually, there would be ten life-sized watercolour portraits of his bicycles, the last painted in 1990.
Curnoe's series of bicycle works (1971–1990) eventually numbered at least fifteen large-scale painted portraits of bikes each with a pencilled listing of the constituent parts: numerous single wheels; two serigraphs on Plexiglas; and many smaller sketches. Posters of these works are still being produced, and with their appeal beyond art circles they continue to introduce new audiences to Curnoe's art.
This Spotlight is excerpted from Greg Curnoe: Life & Work by Judith Rodger.