This portrait by Montreal photographer William Notman (1826–1891) of a Mohawk lacrosse club from St. Regis (Akwesasne) would seem to mark the founding of the Canadian National Lacrosse Foundation and the year the first game was played under the rules devised by the foundation's founder, William George Beers. Beers was insistent that lacrosse would be the right choice for a national game to unify the country. Confederation provided the perfect moment to make his pitch.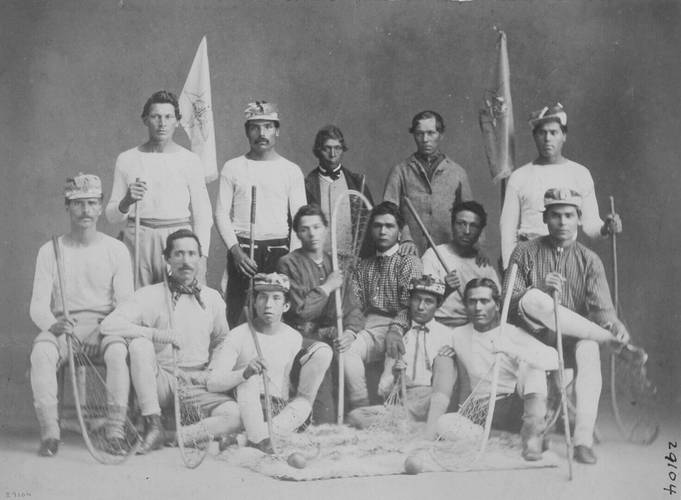 French Jesuit priests first documented lacrosse in the seventeenth century, describing it as a ceremonial ritual in the Algonquin and Iroquois cultures. Matches served spiritual and practical purposes such as conflict resolution and warrior training. The Jesuits disapproved of lacrosse on the grounds that it was violent and involved betting. However, by the eighteenth century French colonists began to play the game themselves, though apparently with little success against Indigenous opponents.
By the mid-nineteenth century the game was absorbed into the Anglo culture of organized leisure sports, which had eagerly adapted to the local pastimes of snowshoeing, skating, and lacrosse. Beers, a Montreal dentist, founded the Montreal Lacrosse Club as a teenager, in 1856. By the 1860s he began to codify the game. He also was a regular client of Notman's, and it seems reasonable to assume that it was Beers who commissioned a series of team photographs of Indigenous and Anglo teams as a way of both documenting and promoting the popularity of the sport specifically on his new terms.
This Spotlight is excerpted from William Notman: Life & Work by Sarah Parsons.