When Russian émigré artist Paraskeva Clark (1898–1986) first arrived in Canada from Europe, she complained that the art in her new country was all "landscape, landscape, landscape." Ironically, in the years that followed she produced more landscapes than still lifes, portraits, or canvases with a social purpose—the works for which she is best known.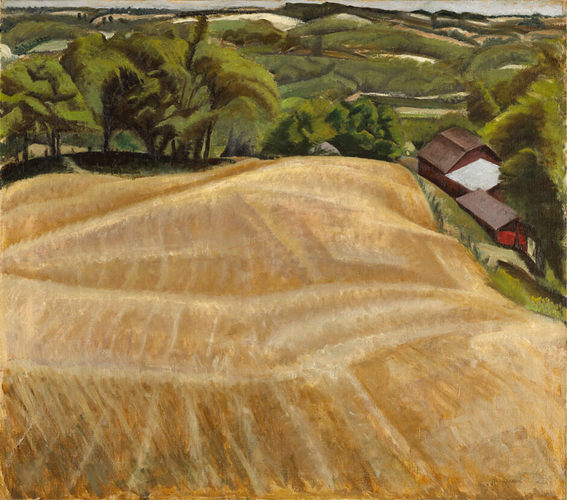 Wheat Field was painted near Inglewood, Ontario, within driving distance northwest of Toronto. Clark began visiting the Caledon Hills with her husband and sons sometime around 1934, and the area continued to provide her with subject matter into the early 1950s. The painting shows an understanding of mass, and Clark models form with the application of colour—she sculpts with paint, rather than draws. Her landscape, with its high horizon and viewpoint, is indebted to the theories of perspective of her teacher Kuzma Petrov-Vodkin (1878–1939). Only a narrow sliver of sky is indicated at the very top of the canvas.
In a review in Art Digest (New York) in 1936, the art critic Graham McInnes had praised Clark for bringing her innate sensibility and her talent for conceiving plastic relationships to the Canadian scene. Here, she successfully brought her Russian training to a Canadian subject.
This Spotlight is excerpted from Paraskeva Clark: Life & Work by Christine Boyanoski.