The iconic imagery of Maritime artist Alex Colville (1920–2013) has the power to seem ubiquitous. To Prince Edward Island has become a familiar image to Canadians: the scene of the painting is the top deck of a P.E.I. ferry, where a woman looks directly out at the viewer through a pair of binoculars while a man sits behind her, his face obscured by her body.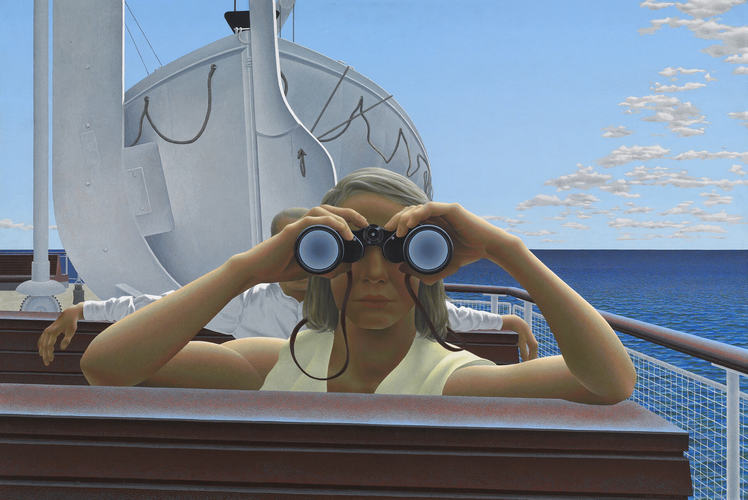 Colville situated this painting as a contrast between what he describes as "the searching vision of the female" and the "stupid and passive" approach of the male gaze: "The woman sees, I suppose, and the man does not." The act of perceiving is a constant theme in Colville's work. Here that theme is joined with another of his common themes: the relationships between men and women, particularly husband and wife.
Each individual is always an observer—that is inescapable for Colville. He directly addresses the viewer in this painting in a way that generates unease and fascination. The female figure appears to be looking back at us as we gaze at her, but the blank eye pieces of the binoculars put the lie to that self-deception. She regards the horizon, scanning the distance—looking right through us. You cannot truly know anyone, Colville seems to be saying, we are alone, together.
This Spotlight is excerpted from Alex Colville: Life & Work by Ray Cronin.