Erato, one of the nine Greek Muses, has a long-standing association with erotic poetry. In this painting, Quebecois painter Ozias Leduc (1864–1955) represents her nude, standing, her head lifted and her abundant hair falling down her back. The woodland setting seems especially favourable for the artist's encounter with the beloved woman, including the one desired above all others—the muse, who carries within her the source of creative power and allows the artist to give birth to his art. It was a frequent theme in visual art at the end of the nineteenth century, such as in the work of the Pre-Raphaelites, the Symbolists, the Nabis, and even the Fauves.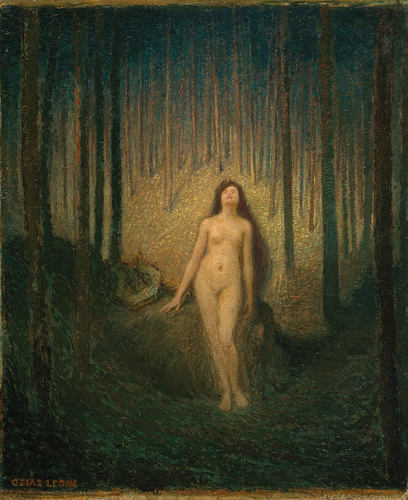 For Leduc, the muse and the mountain were inextricably entwined; Mont Saint-Hilaire was a universe into which his imagination projected the sacred and the spiritual. In his "L'histoire de S.-Hilaire on l'entend, on la voit" (The Story of Saint-Hilaire Is Heard, Is Seen), he describes it as "full of the dream images that populate the accidental material world," and continues, "We are in the domain known to the chosen artists, to the poets, to the masters of sound, a sacred and limitless domain."
This Spotlight is excerpted from Ozias Leduc: Life & Work by Laurier Lacroix.