The Huron-Wendat artist Zacharie Vincent (1812–1886) probably found the inspiration for this drawing in the many portraits of Tecumseh (1768–1813)—the Shawnee chief, leader of a First Nations confederacy, and military leader in the War of 1812—that were published throughout the nineteenth century, along with romantic fictional treatments and biographies. No portrait was made of Tecumseh during his lifetime, however, and this heroic character was not a Huron—the title of Vincent's drawing notwithstanding—but a member of the Shawnee community from Ohio, a sister nation of the Wyandots that also came from Wendake and the Great Lakes, the historic Huron homeland.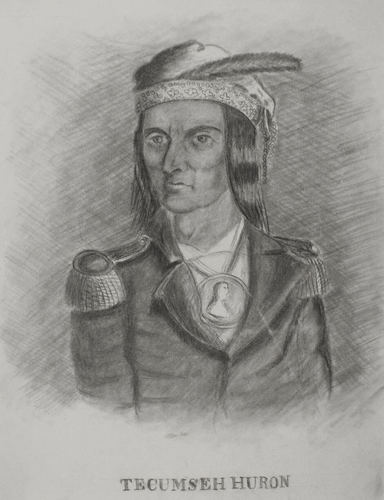 Like Vincent, Tecumseh was a chief who played a diplomatic role, defending the interests of an Indigenous federation. His fame rests on his campaign to persuade his people to abandon the practice of torture and on his resistance to the invasion and settling of Ohio.
The parallel between the two chiefs leads to another analogy: the identity of the "tragic hero" who experiences both triumph and adversity. Vincent expresses his sense of identity with a heroic Indigenous figure, apparently finding a significant kinship in the historical experiences and mythic stature of Tecumseh, just as he is said to have done with the Prince of Wales in Self-Portrait, n.d.
This Spotlight is excerpted from Zacharie Vincent: Life & Work by Louise Vigneault.