Montreal photographer William Notman (1826–1891) developed and popularized composite photography, and Skating Carnival, Victoria Rink is an ambitious example of this technique. To create an image like this one, Notman began with an overall design for the finished picture, and then individual or small group portraits were made—prints of which would eventually be cut out and pasted onto a composite negative and then printed again. For Skating Carnival, Notman put a paid notice in the Montreal paper the Gazette on February 25, 1870, requesting that those attending the carnival come to his studio before or shortly after the event so that they could be photographed in costume. These images became the basis of his composite.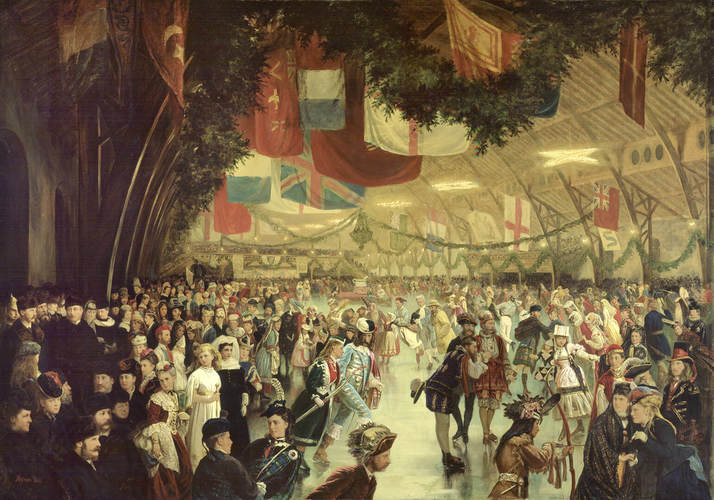 Large group portraits are a notoriously awkward genre, whether in paint or photography, requiring both recognizable individuals and some sense of the overall activity or structure of the group. The setting tends to be shallow and stagelike, but in this composition, Notman includes a lush and detailed representation of the elaborate venue and creates a convincing sense of perspective. We can read the faces of the three hundred or so participants while still getting a sense of the pomp and circumstance of the occasion, one of many winter-themed events that provided a focus for bourgeois civic life in nineteenth-century Montreal and attracted visitors to the city.
This Spotlight is excerpted from William Notman: Life & Work by Sarah Parsons.