Canadian artist Mary Hiester Reid's (1854–1921) Studio in Paris depicts her working space in France where she studied from 1888 to 89, and again in 1896, at the Académie Colarossi. Though the painting portrays a domestic interior, a subject considered to be appropriate for women artists in the Victorian era, more importantly the work demonstrates the artist's view that such spaces are also places for reading, thinking, studying, and working. Studio in Paris was featured in the 2015–16 touring exhibition The Artist Herself: Self-Portraits by Canadian Historical Women Artists (co-organized by the Agnes Etherington Art Centre in Kingston and the Art Gallery of Hamilton), curated by Alicia Boutilier and Tobi Bruce. They suggest that this represents a self-portrait or, more broadly speaking, a representation of Hiester Reid's own artistic identity.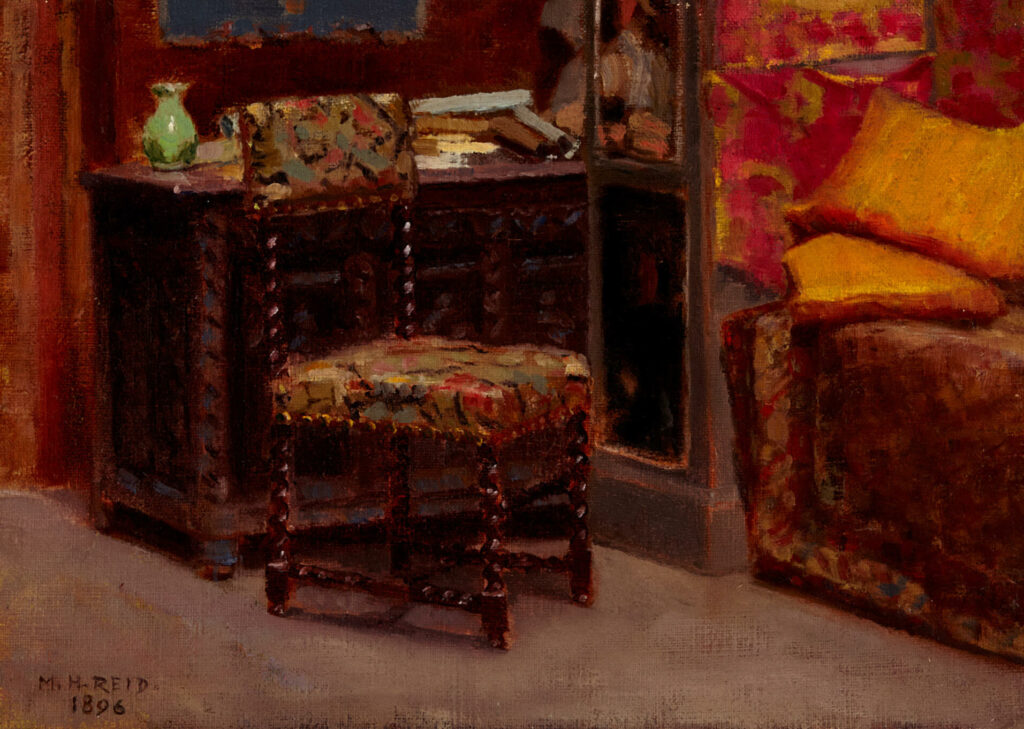 In the work, the desk appears littered with papers and books. It sits on an angle to the picture plane, forming an approximate squared corner with the couch to the viewer's right, covered with blankets and decorative pillows perpendicular to it. The arrangement of the furniture creates a screen that confines the viewer's gaze to the immediate foreground, in which a chair resides, facing away from the desk on an angle. Viewers have a three-quarter profile view of the chair and therefore see its back seemingly shoved up against the front of the desk, suggesting that someone has recently vacated the area. But the absence of a human figure does create ambiguity as to who inhabits this studio space.
This Spotlight is excerpted from Mary Hiester Reid: Life & Work by Andrea Terry.