The early career of Montreal photographer William Notman (1826–1891) reached a turning point when he received a commission from the Grand Trunk Railway in 1858 to document the two-year process of building the Victoria Bridge. This covered bridge (the longest in the world at the time) would finally connect Quebec by rail to the eastern seaboard cities of Boston and New York. During its construction it was often referred to as the eighth wonder of the world. The project was a monumental undertaking, requiring massive construction underwater in the freezing St. Lawrence River before the span of the bridge and the covered tracks could be built. Notman documented every step. He must have had some assistance with the heaviest equipment, but for the most part he worked alone through the winter, often climbing or balancing to find the best angles.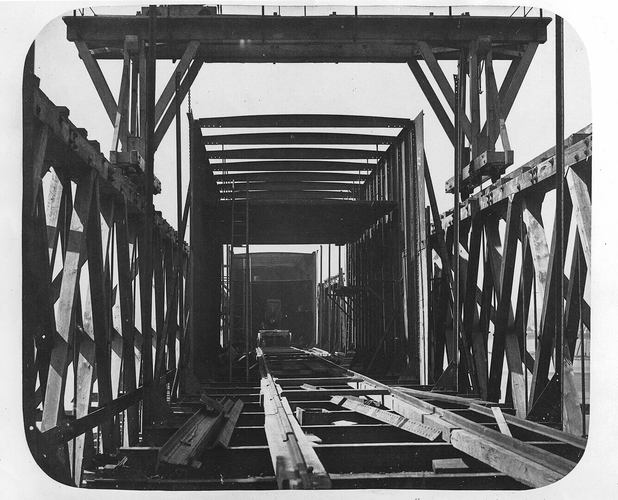 This photograph feels almost radical in its framing. Notman has zoomed in tight to the tunnel and placed us almost dead centre on the tracks. Although we cannot see into the distance, we see far enough to get a sense of the scale and the speed and power that the structure would soon facilitate. There is nothing romantic about this picture. The subject matter demanded a modern, industrial aesthetic, and Notman complied. The shadows that crosshatch the side beams provide the slightest hint of the natural world in which this mammoth industrial construction rests.
This Spotlight is excerpted from William Notman: Life & Work by Sarah Parsons.