Montreal painter Prudence Heward (1896–1947) positions herself as a modern artist depicting modern subjects with this portrait of the dancer Louise McLea. Seated in a country landscape, MacLea's hairstyle and loose-fitting dress reflect the liberated fashions of the 1920s. Modern dancers commonly dance barefoot, and the dirty soles of her feet in the foreground add a touch of realism to the work. Her reddened cheeks and nose suggest physical exertion, as though she has stopped to rest after a performance.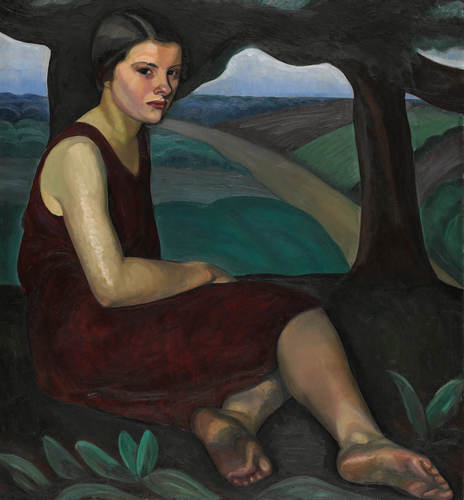 McLea looks directly at the viewer, but rather than facing us full-on, she turns her head only partway, her slightly wary expression accentuated by dark, unsmiling lips. As curator Charles C. Hill wrote in 1975, Heward "portrays strong, independent women, women with individual lives and personalities, yet there is always a certain tension in her work."
Girl on a Hill was instrumental in establishing Heward's reputation as a painter in the late 1920s. The painting won first prize at the 1929 Willingdon Arts Competition, established by the governor general of Canada, and American critics praised the painting when it was included in the exhibition Paintings by Contemporary Canadian Artists, which toured the United States in 1930. A Chicago critic commented that Heward's Rollande, 1929, and Girl on a Hill were "stunning portraits of women, distinguished, almost classical in their serene self-assurance."
This Spotlight is excerpted from Prudence Heward: Life & Work by Julia Skelly.