Yves Gaucher (1934–2000) initially enrolled at the École des beaux-arts de Montréal in 1954 to study painting. But painting, as he recalled, could change with a simple stroke of the brush. Printmaking, on the other hand, offered a much more logical stage-by-stage procedure, which "allowed [him] time to reflect and rectify decisions."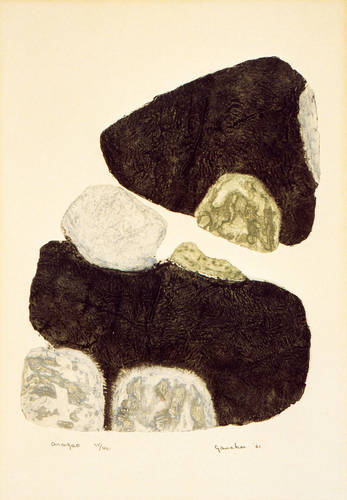 During late 1958 and early 1959 Gaucher began to experiment with Old Master etching techniques. He soon found traditional etching too limiting and started to experiment more broadly, increasingly altering or distressing his plates, often violently; he shifted to embossing, using a positive-negative combination of plates to achieve convex and concave reliefs. His prints from the early 1960s, including Asagao, are remarkable for their technical innovations in relief printing, requiring paper of such weight and strength that he resorted to gluing together two pieces of Arches paper—the lamination, application of colour, and printing all done in the same process.
During the early 1960s Gaucher's imagery was vaguely representational; the shapes in prints like Asagao resemble flagstones, sometimes overlapping or floating freely across the white ground. There is little in these early prints to hint at what was to come. By 1963, Gaucher would adopt full-fledged geometry, staking out his place in the Montreal artists' group the Plasticiens.
This Spotlight is excerpted from Yves Gaucher: Life & Work by Roald Nasgaard.